The Essential Japan Guide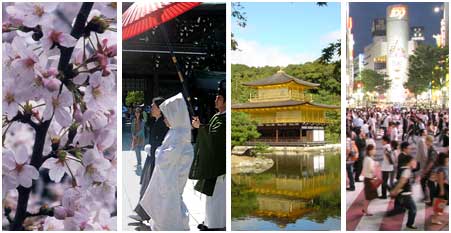 Welcome to the Essential Japan Guide, an insider's guide to the best Japan travel destinations and sightseeing spots, Japanese food and dining, Japanese traditional and pop culture, and all of the cool, uniquely Japanese stuff that you can only find in Japan!

Here is just a tiny sampling of what you'll find inside the Essential Japan Guide:
Check out our ever-expanding detailed area guides to the best places to visit in Japan!

In this section of our website you'll find our Japan Travel Guide to Japan's best sightseeing spots, activities and attractions.

Our Japan Travel Planning Guide provides you with all the info you need to plan your trip to Japan.

Find the perfect place Japan lodging options for your travel style and budget.

In our Japan food and dining guide, you'll learn about Japan's many unique foods and endless dining options

In this section you'll find our fun guide to many amusing, cute, uniquely cool Japanese items and objects as well as the coolest, cutting-edge Japanese products that you can buy!

Become Part of our Essential Japan Guide Community!
We are constantly updating the Essential Japan Guide with new content. Here are some ways you can stay connected and never miss an update!

Join our growing, active EJG Facebook Fan Community. In addition to EJG site updates, our community shares photos and Japan experiences, plus fun weekly Japanese quizzes and other fun stuff!

Be sure to subscribe to our Monthly EJG Newsletter! Each month you'll receive instant Japanese lessons, insider Japan travel and dining tips, the latest Japan travel deals, alerts on the coolest, cutting-edge Japanese gadgets, and much more! Subscribe today and receive 3 bonus instant Japanese lessons!

Feel free to leave a comment on any page and share content you like through our Facebook share buttons and other social media channels. Help us spread the word and reach more and more enthusiastic Japan fans like yourself!

Have any site feedback, questions, or comments? Please feel free to Contact Us and share your thoughts!
Thanks once again for visiting the Essential Japan Guide!