About Essential Japan Guide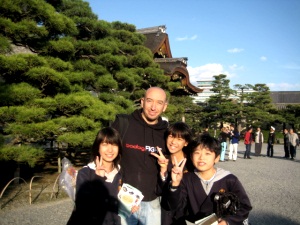 Welcome to the Essential Japan Guide!
Hajimemashite! (Nice to meet you!). My name is Shane (that's me in the picture with a couple young friends I met not too long ago in Kyoto) and the Essential Japan Guide is a little website that I, along with a few Japan-loving friends, have created in order to share with you my love of Japan.
Please have a look around, explore, join our growing EJG Facebook community, share this site with others, and feel free to contact us with any comments, suggestions, or even submissions of Japan-related content of your own that you would like us to feature on our site.
Thanks for visiting the Essential Japan Guide, and enjoy!
Return from About Essential Japan Guide to the EJG Home