Currency Exchange and Banking in Japan
As a foreign traveler, there are a few nuances and essentials you should know about banking in Japan and foreign currency exchange in the country.

Foreign Currency Exchange in Japan
When coming to Japan, you will need to convert your country's currency into Japanese currency, the yen. In order to do this, you have several options.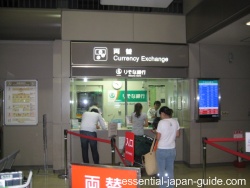 The first option is to exchange your currency for yen at a major bank in your country before you leave for Japan. However, bear in mind that the exchange rates offered by banks abroad are not always the best.
A second option is to exchange your currency for yen at the airport upon your arrival. Each international airport in Japan has currency exchange windows to handle your transactions.

Japan Banking Options
First of all, please be aware that most foreign bank cards and credit cards cannot be used to withdraw money from most Japanese bank ATMs. A couple of notable exceptions are the ATMs located in Japan's post offices and in 7-11 convenience stores.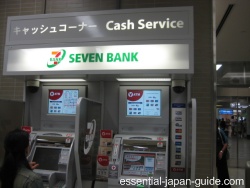 What's that? Yes, you heard that right. 7-11 is actually a registered bank, called Seven Bank, and 7-11 provides more than 12,000 ATM machines throughout Japan, so if you're in a cash pinch, just look for a 7-11 shop for 24-hour access to yen.
While Seven Bank provides 24-hour ATM machines, many of the others do not, and foreign travelers and residents are often dismayed to find themselves short of cash because their bank's ATMs have shut down for the evening or is unavailable on the weekend.
Speaking of cash, you should also be aware that business transactions and store purchases in Japan are heavily cash based. While many of the larger department stores and chain restaurants accept credit and debit cards, many smaller places of business do not, so be sure that you have access to plenty of cash when you need it while in Japan.
English Banking Assistance in Japan
Citibank also has a number of bank branches located throughout the Tokyo metro area and 24-hour ATMs placed throughout Japan. Most bank branches have personnel on hand who can provide assistance in English.