Capricciosa Japanese Italian Restaurant
Capricciosa is a fantastic casual Japanese Italian restaurant chain in Japan that serves up generous, family-sized portions
of delicious pasta, pizza, and other Italian fare at reasonable prices.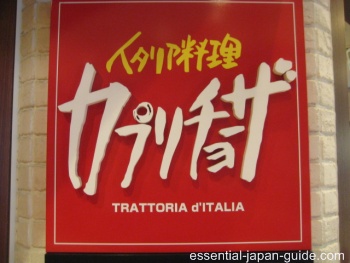 One of the best things about Capricciosa is its generous family-sized portions. If you're a Westerner
visiting Japan, it won't take long before you notice that Japanese portions are quite small and likely will leave
your stomach growling for more. Thankfully, the restaurant serves up pasta in family-sized portions that feed
approximately four Japanese or two hungry gaijin. They do, however, also offer single-sized portions in case you're
dining solo or not that hungry.

Capricciosa Menu Items
Capricciosa offers a generous selection of over a dozen pasta dishes. Our favorites include the spaghetti with tuna,
calamari, and clams in tomato sauce, and the fettuccine with salmon in tomato cream sauce. And if you're in the mood for
a real food adventure, try its signature dish, a spaghetti with calamari and onion in squid ink sauce that will
literally leave your teeth as black as a lady of the Heian Era!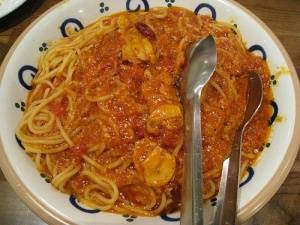 Pizza offerings include a simple but tasty Margherita (petit tomatoes, basil and mozzarella), Seafood Marinara
(shrimp, clam, calamari and tuna), and our personal favorite, Acciughe (anchovies, garlic, onion and black olives).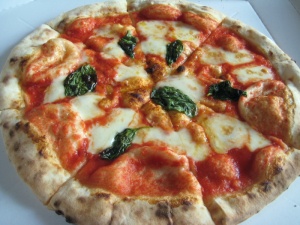 Also be sure not to overlook the restaurant's great salads and appetizers. Our favorites include their thick garlic
bread, fried potatoes with mixed vegetables sautéed in butter, and a Sicilian style rice croquette, a true Japanese
-Italian original!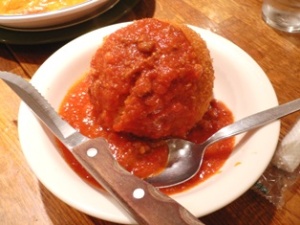 Cciosa will fill you up without emptying your wallet. Most pasta dishes cost around 1,800 yen for the family-sized
portion–easily enough for two hungry gaijin! Pizzas are about 1,200 yen. Most salads and appetizers are
under 1,000 yen.

Capricciosa Locations
With over 130 locations throughout Japan, including Shinjuku and Shibuya, and many more in the greater Tokyo area, you
should have no problem finding a Cciosa near you. The chain even has several overseas locations in Taiwan,
South Korea, and Guam.
If you're in need of a break from all the sushi while in Japan and find yourself craving Western-sized portions of
delicious family style Italian food, Capricciosa Japanese Italian restaurant is just the place you're looking for!