Chankonabe
Chankonabe, or chanko nabe, is the staple food eaten by sumo wrestlers in Japan to pack on the pounds they need to compete in the sumo ring. Refined and tasty variations of this dish can be enjoyed at chanko nabe restaurants in Japan.
Overview of Chanko Nabe
Nabe is a traditional Japanese one-pot dish that is popular in Japanese during the cold winter months, and chankonabe is the sumo version of this thick stew made of dashi or chicken broth and packed with ingredients like beef, chicken, tofu, and vegetables.
Chanko nabe is the staple food eaten by sumo wrestlers in order to fatten up and attain the enormous girth needed to compete in the sport.

Chanko Nabe in Sumo Daily Life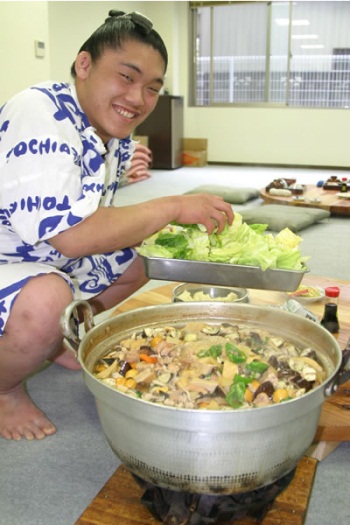 Sumo wresters begin training at the crack of dawn, and train through the morning. Therefore, their first meal of the day is chanko nabe, which they eat around noon.
The wrestlers eat according to rank, so the most senior wrestlers eat first, and the lowest ranking rikishi get to scrape the bottom of the pot for what's left.
Sumo wrestlers eat heaping portions of chanko nabe, along with rice and beer, and then take a long afternoon nap. Although not the healthiest of lifestyles, it is ideal for packing on pounds.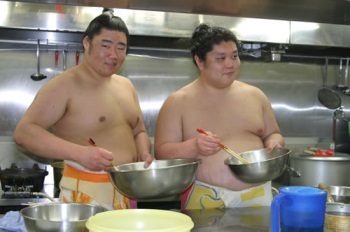 Sumo wrestlers live and train communally in "stables" with their fellow wrestlers. In sumo stables, junior-ranking wrestlers must serve their senior counterparts. Part of the duties of junior wrestlers is cooking, so preparation, cooking, and serving of chanko nabe is traditionally performed by low-ranking sumo wrestlers.

Chanko Nabe Ingredients
Ingredients found in chanko nabe include cabbage, leeks, potatoes, carrots, tofu, shiitake mushrooms, daikon radish, beef, and chicken, and udon noodles, all boiled together in a chicken-based broth.

Chanko Nabe Restaurants
In addition to chanko nabe eaten by sumo wrestlers in their stables, many retired sumo wrestlers open their own chanko nabe restaurants, where the general public can enjoy a refined version of this dish made with higher-quality ingredients. Many chanko nabe restaurants are located in Ryogoku, near the Ryogoku Kokugikan, where several sumo tournaments are held each year.
Chankonabe is a fun dish to eat with friends. Combine your chanko nabe feast with the excitement of attending a live sumo tournament, and you can enjoy the perfect Japan sumo experience!