Fushimi Inari Shrine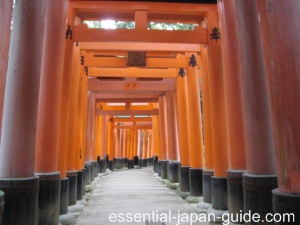 Fushimi Inari Shrine is a Shinto shrine in Kyoto famous for its astounding number of torii gates that wind endlessly up the mountainside. The shrine is a spectacular attraction that is definitely worth visiting while in Kyoto.
History of Fushimi Inari Shrine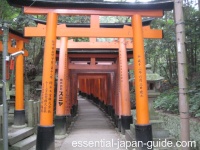 This Shinto shrine is dedicated to Inari, the Shinto god of wealth. The shrine was established in the year 711, at the base of Inari Mountain.
Business owners pray to Inari for prosperity, and make offerings to the shrine by donating large bright orange torii gates.
The Shrine is also a popular destination among Japanese for shrine visits during the New Year Holiday.
Features of Fushimi Inari Shrine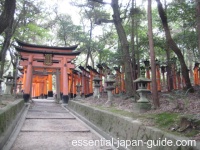 The result of many such offerings is a spectacular setting of thousands upon thousands of torii winding up the mountain trail behind the shrine. While the hike to the top of the mountain trial takes a couple hours and may leave you short of breath, the mystical scenery of the rows upon rows of orange gates snaking through the mountain forest is truly breathtaking.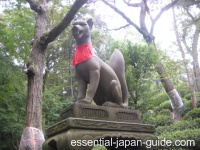 Another feature of Inari Shrine is the many impressive kitsune (fox) statues that dot the shrine grounds. Kitsune are said to be messengers of Inari, and these imposing statues depict foxes with a key or other object in their mouths.

Directions to Fushimi Inari Shrine
Take the JR Nara Line from Kyoto Station two stops to Inari Station. The entrance to the shrine is located just outside the station.
Hours of Operation and Admission
The shrine is open throughout the day and admission is free.