Geography of Japan
Let's take a look at some essential info on the geography of Japan.
Japan's diverse geographical features are part of what makes its culture and society unique. As an island nation in East Asia comprised of four major islands and countless smaller islands, Japan is surrounded by the Sea of Japan to its west and the Pacific Ocean to its east.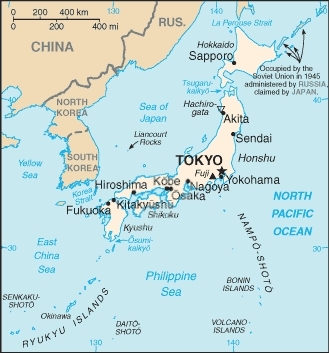 In terms of area, Japan is roughly the same size as the U.S. state of California. Over 70% of the country's land mass is mountainous. The highest mountain, and most well-known, is Mt. Fuji (3,776 meters). You might be aware that Mt. Fuji is actually a volcano. While Fuji has been dormant for some 300 years, some volcanoes in Japan are still active. Japan also experiences frequent earthquakes. Though most of these are minor, major earthquakes also sometimes occur.
The population of Japanis approximately 127 million. Due in large part to the country's rugged mountainous terrain, only about 10% of Japan's land is arable, and in contrast to its industrial image, around 67% of the land consists of forests and woodland. The small overall area of the country and highly mountainous terrain contribute to the high concentration of its population in its major cities. The lack of arable land and natural resources also results in Japan being highly reliant on imports for its sustenance.
The climate of Japan is temperate, with four distinct seasons, although temperatures vary significantly at its northern and southern extremities.
---
For more info on Japan's geography and related information, click on the following links:
Climate of Japan Population of Japan Islands of Japan Economy of Japan Japanese Holidays Education in Japan Earthquakes in Japan
---
Return from Geography of Japan to Japan Facts Return from Geography of Japan to the Essential Japan Guide Home