Ginkakuji Silver Pavilion
Ginkakuji Silver Pavilion, though not actually silver in color, is a Kyoto temple with an immaculately sculptured Zen sand garden, a tranquil Japanese pond, and lush wooded grounds, making this temple a worthwhile Kyoto sightseeing attraction to visit.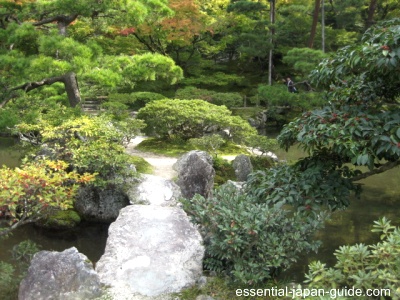 History of Ginkakuji Temple
Shogun Ashikaga Yoshimasa (1435-90) originally commissioned the building as a retirement villa. Yoshimasa's intention to cover the structure with a distinctive silver-foil overlay remained unfulfilled at the time of the shogun's death, Thus, Ginkakuji, which literally translates as "Temple of the Silver Pavilion," is a silver pavilion in name only. Upon Yoshimasa's death in 1490, the villa was converted into a Buddhist temple.

Features of the Silver Pavilion
A narrow street lined with charming little shops leads up to the base of the temple entrance.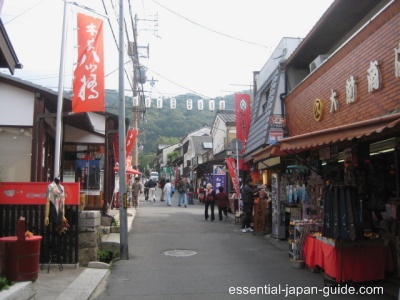 Walk up the beautiful tree-lined path leading to the entrance of Ginkakuji.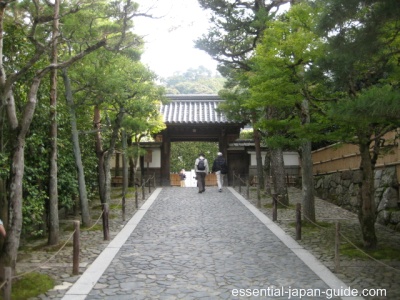 Just inside the entrance is a path of towering shrubbery leading to the actual temple grounds.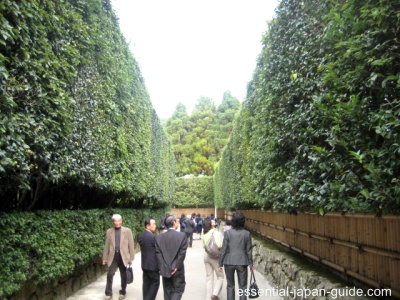 Once inside the temple grounds, you'll see the compound of temple buildings.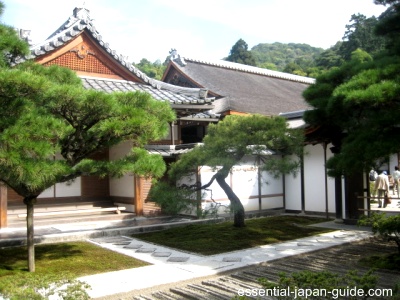 There is a beautiful Zen sand garden for which the temple is particularly well known.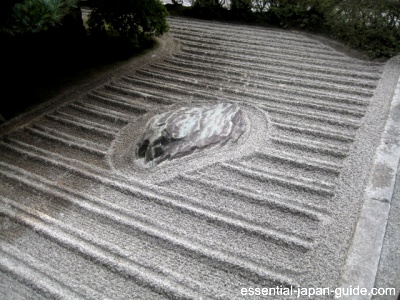 The sand garden is famous for a perfectly sculpted mound said to represent Mt. Fuji, as well as its impeccably groomed sand patterns.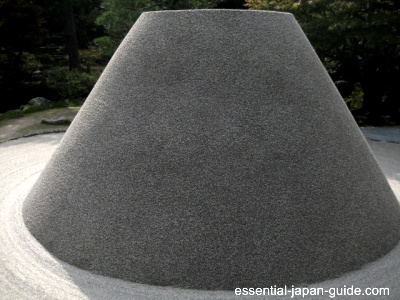 The temple grounds is accented by a tranquil Japanese pond in the center.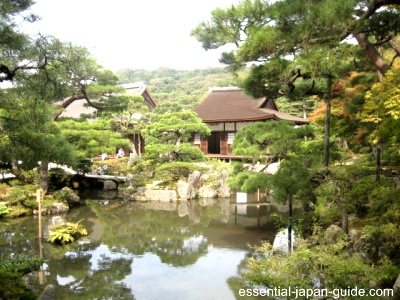 At the rear of the temple grounds is a peaceful wooded area lined with hiking paths that lead up the hillside.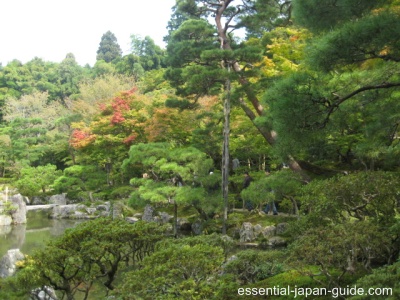 The top of the path provides a breathtaking view overlooking the entire grounds and beyond.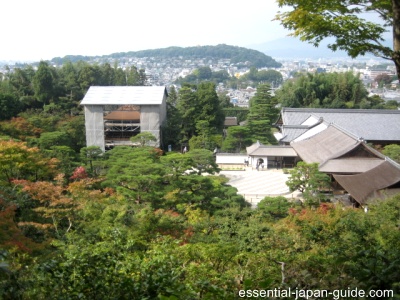 Before leaving the temple grounds, stop and relax at the tea garden located at the exit.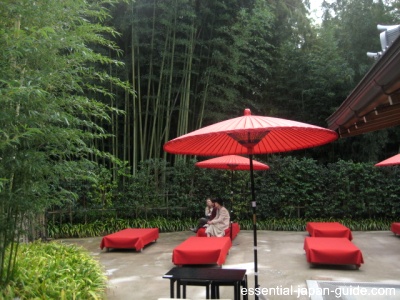 After visiting the temple, for a unique Japanese treat, stop at this charming little shop, located just beyond the temple entrance, that serves delectable macha (green tea) flavored cream puffs (along with complementary tea!).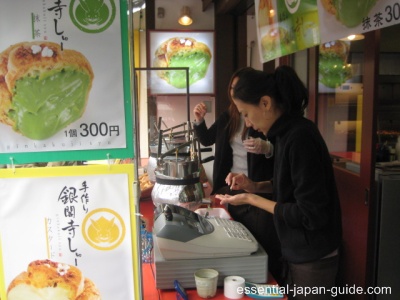 Finally, after your visit to Ginkakuji Silver Pavilion, hike back down the street and you'll find yourself back at Kyoto's famous Path of Philosophy (Tetsugaku no Michi).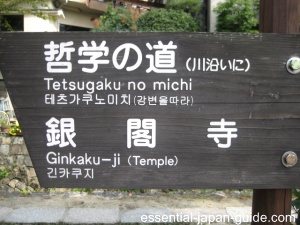 Note: Ginkakuji is currently undergoing major renovations, with the entire main structure covered in scaffolding. Work is scheduled to be completed in Spring 2010.

Best Time to Visit Ginkakuji
Ginkakuji is a splendid attraction to visit any time of the year, and Japan's four distinctive seasons provide the Silver Pavilion with ever-changing seasonal backdrops that make this Japan attraction an ideal photo-taking spot.
However, our favorite time to visit Ginkakuji is around early- to mid-November, when the wooded grounds change into their brilliant autumn colors.

Directions to Ginkakuji
Ginkakuji can be accessed by direct bus number 5, 17 or 100 from Kyoto Station. Alternatively, you can reach Ginkakuji by foot along the Path of Philosophy from Nanzenji.
Silver Pavilion Hours of Operation and Admission
Open every day Mid-March to November: 8:30-5:00;
December to mid-March: 9:00-4:00
Entrance fee is 500 yen