Ginza Tokyo Guide
Ginza Tokyo is located in the Chuo ward of Tokyo. Home to many upscale restaurants, cafes, department stores and brand name fashion boutiques, the Kabuki Theater, the Sony Building, an Apple store, and close proximity to the Tsukiji Fish Market, Ginza is a popular destination among Japanese locals and foreign visitors alike.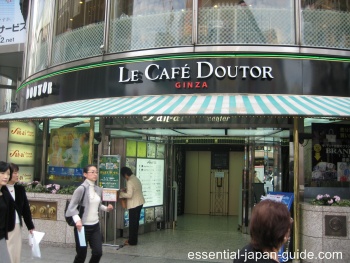 Ginza Shopping
With its world-famous department stores and brand name fashion boutiques, Ginza is perhaps best known as Tokyo's prime destination for upscale shopping.
Ginza Department Stores
Ginza is home to many of Japan's venerable department stores, including Ginza Wako, Mitsukoshi, and Matsuzakaya, and Ginza Hands (an upscale version of Tokyu Hands), just to name a few.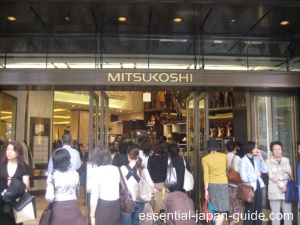 Ginza Brand Boutiques
Ginza is also home to many of the world's most famous upscale fashion brand shops, including Prada, Dior, Louis Vuitton, Chanel, Zara, and many others.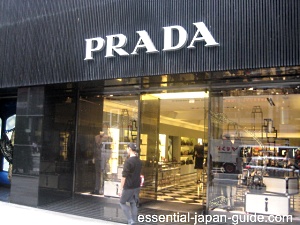 Ginza Sony Building
Visit the Sony Building in Ginza and check out the impressive four-floor showroom with all of Sony's latest products on display. Access the Sony Building by using exit B9 at Ginza Station on the Tokyo Metro Marunouchi Line, Ginza Line, and Hibiya Line.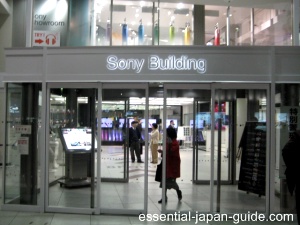 Ginza Apple Store
Prominently located on Chuo-dori facing opposite the Matsuya department store, the Apple store in Ginza is hard to miss. In addition to the showrooms filled with iPhones and iPods, and other Apple gadgets, on the top floor of the store you'll find rows of computers with free Internet access, which makes this a popular destination among foreign visitors who want to check and send email while checking out the latest Apple computers and software. Access the Ginza Apple store by using exit A13 at Ginza Station on the Tokyo Metro Ginza Line.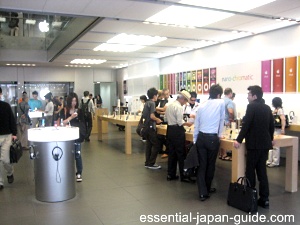 Ginza Kabuki Theater (Kabukiza)
The Ginza Kabuki Theater opened in 1889, and here you can enjoy performances of traditional Japanese kabuki theater. All kabuki performances are in Japanese, but earphone guides that describe what's happening on stage are available for a small fee. Since an entire kabuki performance consists of several acts that span quite a few hours, an attractive option for those who just want to get a taste of kabuki is to buy a ticket for a single act. Single act tickets cost around 700 to 1,000 yen, and can be purchased the day of the show at the theater box office.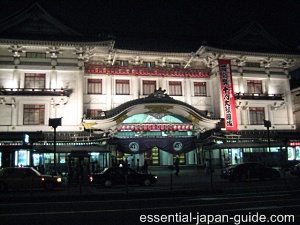 The Ginza Kabuki Theater is located right in front of the Higashi Ginza Station on the Hibiya and Toei Asakusa subway lines.

Ginza Nissan Gallery
The Nissan Gallery in Ginza has a showroom full of Nissan autos from past, present, and future. Access the Nissan Gallery by using exit A4 at Ginza Station on the Tokyo Metro Ginza, Hibiya, and Marunouchi subway lines.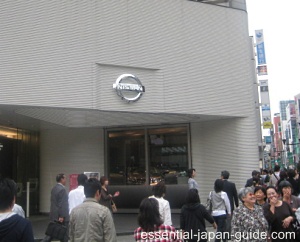 Tsukiji Fish Market
The world-famous Tsukiji Fish Market is located within easy walking distance to/from Ginza, so one recommended day of Tokyo sightseeing would be to visit Tsukiji Market in the morning to catch the tuna auction and enjoy a fresh sushi breakfast at Sushi-Dai or other Tsukiji sushi shop, and then head to Ginza for a day of shopping and sightseeing.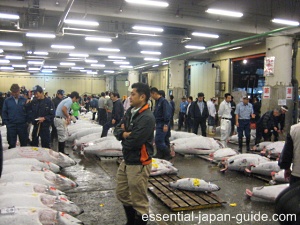 The most festive time to visit Ginza Tokyo is during the weekend, when the main street is blocked off from vehicle traffic and shoppers and sightseers alike descend on this glitzy part of the city, creating a fun festival-like atmosphere.
Directions to Ginza Tokyo
Access Ginza by taking the Hibiya, Marunouchi or Ginza subway lines to Ginza Station. Alternatively, you can also take the JR Yamanote Line or Keihin Tohoku Line and walk from nearby Yurakucho Station.
Other Nearby Tokyo Attractions