Hanamaru Udon
Create Your Own Udon!
Hanamaru Udon is a nationwide self-service style udon chain restaurant in Japan where you can create your own udon dish.
A great restaurant for diners looking for a quick, simple, yet delicious and healthy meal, during meal times, this udon shop bustles with a steady stream of hungry diners. It is also affordable. In fact, the cheapest dish, a small-sized kake udon, is just 105 yen! Add a piece or two of tempura to the small kake udon, and the dish is still just 350 yen.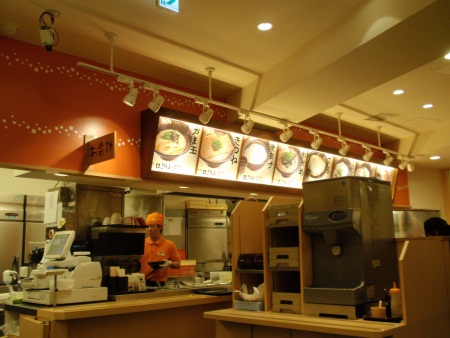 These amazingly low prices is one way that Hanamaru appeals to its wide spectrum of customers. Indeed, it is difficult to find a food item this low in any Japanese restaurant, which makes Hanamaru an appealingly affordable option for everyone from students and businessmen to families, and of course, hungry travelers on a budget! Hanamaru is also a comfortable and popular dining destination for solo female diners.

How to Order at Hanamaru
Once you enter the restaurant, grab a tray. Choose from a selection of side dishes that include tempura, oden, and onigiri, then order your udon. The rich assortment of tempura choices includes pumpkin, karaage fried chicken, shrimp, and many more. You can enjoy the tempura separately, or add it atop your udon with a tsuyu soup base to create a bowl of tempura udon. The fun and appeal of Hanamaru is that you can create your own bowl of udon, from simple to complex, just the way you like! Once you've complete your udon creation, make your way to the cashier, pay for your meal, and then find a seat at a table and enjoy!

Popular Hanamaru Menu Items

Kake Udon (Basic Udon)
This is the most basic udon dish, which consists of udon in a hot tsuyu broth topped with chopped green onion. Items like wakame (a type of seaweed) can be added to create wakame udon, or a thin fried pouch of tofu called abura-age can be added to make kitsune udon.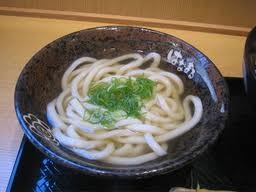 Bukkake Udon (Special soy sauce Udon)
This is a dish of hot or cold noodles in a thick soy-sauce-based tsuyu broth topped with chopped onions and grated radish.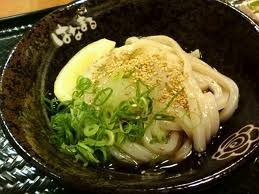 Kamatama Udon (Iron Pot Udon with Raw Egg)
A piping hot bowl of udon with a raw egg poured over the top and quickly stirred.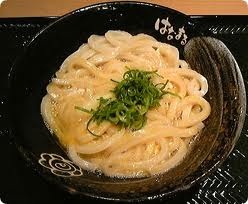 There are many other combinations to choose from!

Hanamaru Locations
Hanamaru Udon has over 250 locations throughout Japan, so there's a good chance you'll come across a shop in the course of your Japan travels. Newly opened locations can even be found inside many supermarket food courts. Hours vary by restaurant, but most street side shops are open from around 10am to 10 pm.
Many Hanamaru locations provide English menus, but the restaurant's self-service style makes it easy to order and enjoy delicious udon at any Hanamaru Udon location!
Hanamaru Udon Website (English)

Special thanks to EJG travel guide Kaori-san for this review of Hanamaru Udon!