Himeji Castle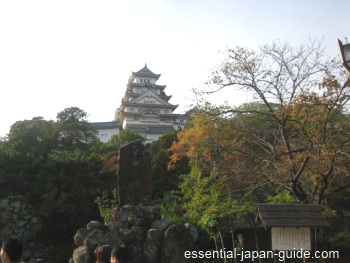 Himeji Castle, located in Himeji City, Hyogo Prefecture, is one of Japan's oldest and most impressive ancient castles. An awe-inspiring structure, it is nicknamed "White Heron" due to its towering white walls, and has been listed as a UNESCO World Heritage Site as well as a national Japanese Treasure.

Himeji-Jo History
Himeji-jo, as it's called in Japanese, was initially built as a fortress in 1333. In 1581, the structure was rebuilt as a three-story castle by then-ruler Hideyoshi Toyotomi during Japan's Sengoku (Waring States) period. Finally, in 1601, under the direction of Shogun Tokugawa Ieyasu the castle was rebuilt as a five-story structure, the form in which it has remained to the present day.
In 1993, Himeji-jo was listed as a UNESCO World Heritage Site. The castle has also been designated a Japanese National Treasure and Important Cultural Property.

Overview of Himeji-Jo
Himeji-jo is a wood structure that sits atop a stone foundation with walls of white lime plaster. The entrance to the castle contains numerous fortifications, gates, guard houses, and zig-zagging paths leading to the main castle as defensive elements. Sitting atop a hill, the castle was ideally situated to spot and counter enemy advancement.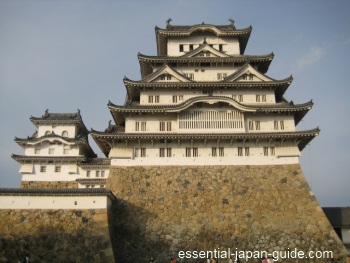 The castle survived bombing during WWII with almost no damage, and thus has stood in its original state for over 400 years.

Visiting Himeji-Jo
Outside Himeji-Jo
As you approach Himeji-Jo, the castle offers awe-inspiring views atop the hill on which it sits, as well as views from below of the detailed woodwork of the curving Japanese-style roofs.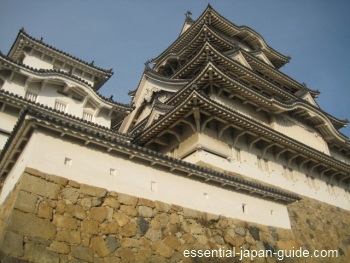 At the base of the castle, you get a close-up look at the towering stone foundation.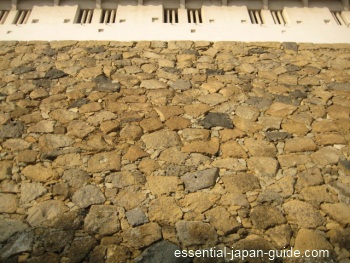 Inside Himeji-Jo
The self-guided Himeji Castle tour winds progressively up each floor level, the higher floors offering stunning views overlooking the city below. The views during autumn with the changing colors of nature, or spring when cherry blossoms are in full bloom, are particularly beautiful.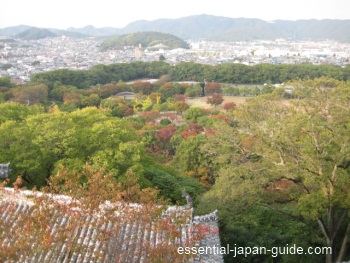 Artifacts on display within the castle include priceless Japanese swords: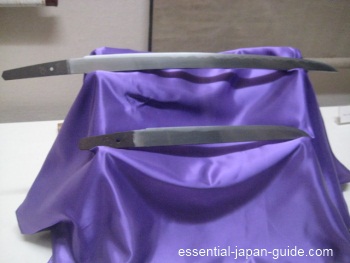 Musket rifles: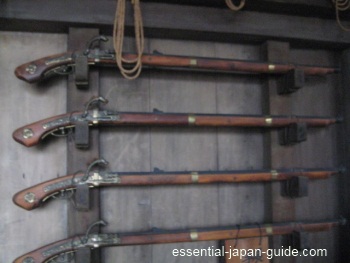 Japanese body armor: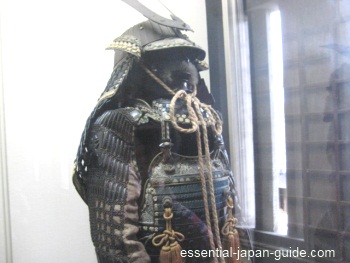 And painting masterworks of Japanese art.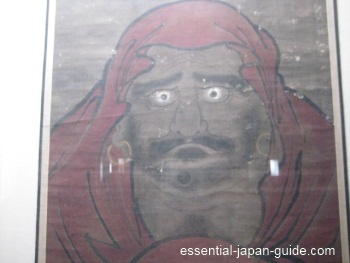 Himeji Castle Renovation
Restoration work will be performed on the castle between 2009 to 2014 that may restrict access to some parts of the castle. Click this link for more details.

Although a bit of a distance from Tokyo, Kyoto, and other popular tourist destinations, as one of Japan's most important and awe-inspiring structures, Himeji Castle is definitely worth a visit.
Directions to Himeji-Jo
3 hours and 20 minutes by Shinkansen from Tokyo; 55 minutes from Kyoto
1 hour 40 minutes by JR express train (Sanyo Line) from Osaka
40 minnutes from Kobe. 15-minute walk from Himeji Station
Days and Hours of Operation
Open daily hear round, except December 29 through 31
9:00am to 4:00pm (Sept. through May)
9:00am to 5:pm (June through Aug.
Admission Fee
Adults: (15 and older) 600 yen
Children (3-14) 200 yen