How to Eat with Chopsticks
How to Eat with Chopsticks…Using chopsticks is really quite easy once you get the hang of it. Follow these easy steps and you'll seeon be a chopsticks master!

How to Hold Chopsticks

Step 1: Lay the first chopstick across your fingers as shown below: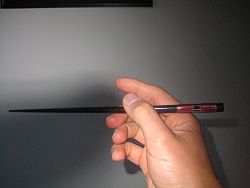 Step 2: Now insert the second chopstick between the thumb and forefinger as shown in the second picture. Make sure that the tips of the chopsticks line up in length: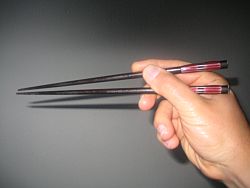 How to Use Chopsticks

Step 3: The lower chopstick should remain stable as you move the upper chopstick up and down like a lever: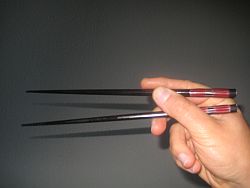 An alternative method of is to hold the upper stick between the forefinger and middle finger while resting the lower stick across the ring finger.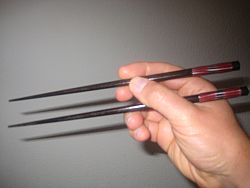 Now you know how to use chopsticks. That wasn't too hard now, was it? Practice makes perfect!