Japan Cherry Blossom Viewing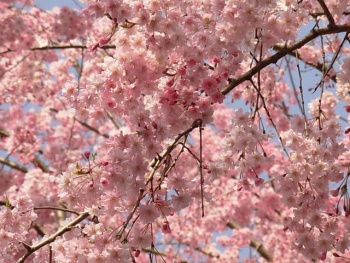 Spring in the Land of the Rising Sun means the arrival of Japan cherry blossom viewing season. This is by far the best time to visit Japan and view the country in all of its colorfully accented beauty.

Spring: Japan Cherry Blossom Viewing Season
The coming of spring in Japan is accompanied by the arrival of cherry blossoms, (called sakura in Japanese), which when in full bloom blanket the country with a gorgeous pink/white hue that transforms the nation into a living impressionist painting.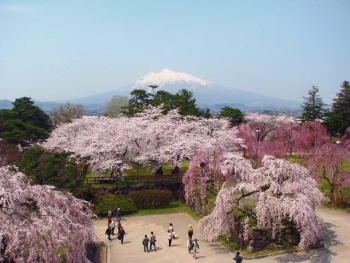 Sakura trees seem to line the entire nation of Japan. Each year, these trees begin blooming in the warmer southern part of the country and make their way progressively north. So anticipated is this annual event that the sakura-zensen (cherry blossom front) is tracked daily on the news, so that people can plan their flower viewing excursions.

Hanami: the Tradition of Japanese Cherry Blossom Viewing
One of Japan's richest and most eagerly anticipated traditions is hanami, or flower viewing. When cherry blossoms are in full bloom, friends, families, couples, and even entire companies traditionally gather together for a picnic in parks and other areas where sakura are abundant, where they drink, make merry, and take in the fleeting beauty of the cherry blossoms.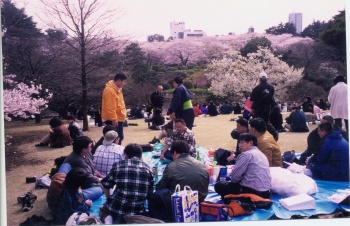 Travel during Japan Cherry Blossom Season
Japan's cherry blossom season is an ideal time to visit Japan. However, because cherry blossoms only stay in bloom for a brief few days, it can be a bit tricky to plan your travel so that you get there at just the right time.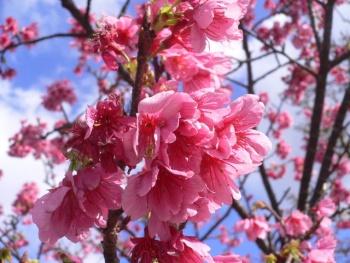 Japanese cherry blossoms typically bloom as early as January in Okinawa, and reach Kyoto and Tokyo toward the end of April and beginning of March. However, warmer or colder than average temperatures can accelerate or delay the blossoms and throw a wrench in even the best thought out travel plans.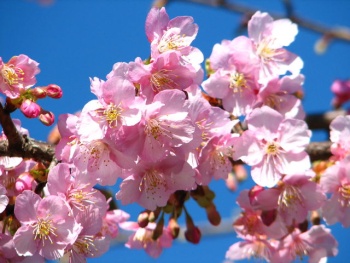 The best strategy may be to plan your travel for the end of March and beginning of April, hope that the blossoms arrive on schedule, and if they don't, plan on traveling north or south as needed wherever they happen to be in full bloom at that particular time.

Best Areas for Viewing Japan's Cherry Blossoms
Popular spots in Tokyo for viewing cherry blossoms and partaking in the tradition of hanami include Ueno Park, Shinjuku Gyoen, and along the Sumida River.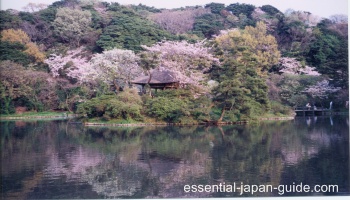 Japan's famous shrines and temples in places like Kyoto, Nara, and Kamakura are also exquisite spots from which to enjoy cherry blossoms.