Japan Rail Travel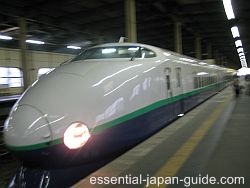 Japan rail travel will likely be your primary means of transportation while in Japan, and for good reason. Unlike the U.S. and other countries where cars are the principle means of getting around, Japan relies heavily on its system of public transportation–especially trains.
As a result, Japan has an extensive and famously on-time network of railways that reaches all corners of the country. Take advantage of Japan rail travel and explore, explore, explore!

Overview of Train Stations in Japan
Your Japan train travel adventure begins at the train station (called "eki" in Japanese).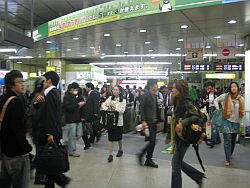 Train stations in Japan, particularly those in the cities, are not simply places to get on and off trains, but are centers of entertainment and commerce containing a stunning array of retail shops, bakeries, restaurants, cafes, and even department and grocery stores.
The largest stations, like Tokyo Station and Shinjuku Station, are cavernous labyrinths that can literally stretch for miles underground.
It would not be an exaggeration to say that much of the activity in Japan's urban areas is centered in and around its train stations. In fact, you can easily spend an entire day shopping, eating, and people watching without ever stepping foot outside the train station!

How to Buy a Train Ticket and Board a Train in Japan
In order to ride Japan's railways you first need to buy a ticket and get on board. Here's how you do it:

When you enter the area of the station where tickets are sold, you'll be confronted by a row of ticket dispensing machines, above which you'll find a map of train routes and stations. Station names are usually marked in English as well as Japanese, so you shouldn't have too much difficulty locating your destination.

Each station will also be marked with a fare in yen, which is the cost to travel from your present station. Once you've figured out the cost of travel to your intended destination, make your way to a ticket machine and insert the appropriate amount in yen.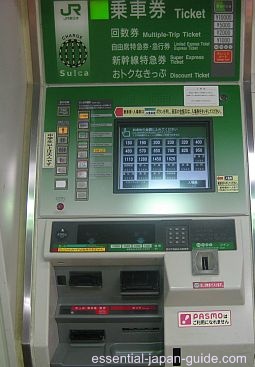 As you enter yen coins or bills, the screen will display the fares for which you have put in enough money to buy. Once you've covered your fare, select it on the screen (on older machines, the buttons will light up). The machine will then dispense your ticket and your change, if any. Most ticket machines also now have an option for an English menu to make the process easier.

Next, make sure you're headed for the correct platform, and then pass your ticket through the ticket gate. The ticket will pop up on the other side. Be sure to take it with you!

Now make your way to the platform, once again check the direction of your train (because trains run in both directions on many platforms), and line up behind one of the areas that mark where each train car will stop. Once the train arrives, allow those already on the train to get off before boarding. Enjoy your ride!

After you arrive at your destination, get off the train and head to the exit. Pass your ticket again through the ticket gate as you exit. This time, the ticket will be swallowed up by the gate. You're now free to roam!

How to Adjust Your Train Fare
If you mistakenly buy a ticket that was less than the amount required for the distance you traveled, the gates will close on you when you pass your ticket through and attempt to exit. There are a couple ways to remedy this situation so don't panic!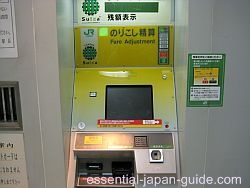 The first method is to use the fare adjustment machine located just inside the ticket gate. This machine is easy to use. Simply insert your ticket. The machine will tell you how much you owe. After you insert the appropriate amount, the machine will dispense a new ticket, which you can now use to exit the gate.

If the fare adjustment machine seems too confusing, you can simply present your ticket to the station attendant, who will tell you how much you owe. Settle the amount with the attendant, and you'll be on your way.

The fare adjustment machine is a great tool to use if you can't figure out your fare from the departure station. Just buy the cheapest ticket at your station of origin, and then use the adjustment machine to get the correct fare after arriving at your destination.

Japan Railway Company (JR)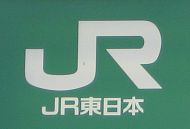 Though there are many companies that operate railways throughout Japan, the largest Japan rail travel network by far is operated by Japan Railways (usually simply referred to as JR), which is actually a group company with subsidiaries that operate regionally as JR East, JR West, JR Hokkaido, JR Central, JR Kyushu, and JR Hokkaido.
JR operates the majority of lines that extend throughout the country, including all of the Shinkansen (bullet trains) and the Narita Express.
JR is also the train line that offers the Japan Rail Pass, a convenient Japan rail travel pass that visitors from abroad can buy that allows virtually unlimited discount Japan rail travel on JR trains, as well as other budget travel options including the Seishun 18 Kippu, the Suica prepaid card, and Suica & N'EX.
We encourage you to experience the fun and convenience of Japan rail travel during your stay in Japan!