Essential Japan Sushi Guide
(寿司)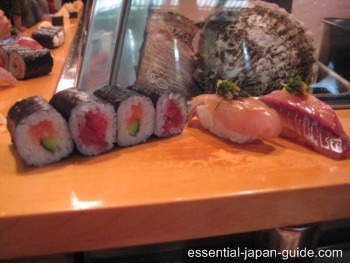 Japan Sushi…the opportunity to experience this delicacy prepared authentically in its country of origin is reason enough to venture to Japan. If it's fresh, masterfully prepared sushi you seek in Japan, you won't be disappointed.

Origin of Sushi in Japan
Sushi in its earliest form can be traced all the way back to Japan's Muromachi Period (1336 – 1573), and became popularized as an early type of Japanese fast food in the form much like we know it today toward the end of the Edo Period (1603 – 1868).
Popular Types of Japan Sushi
Sushi is actually prepared in a wide variety of ways in Japan. Some of these forms you have probably enjoyed at your neighborhood sushi joint. Others may be new to you.

Nigirizushi (hand-formed sushi)
Nigiri sushi, or nigirizushi, the most basic and popular form of Japan sushi, is made by hand-forming a ball of vinegared rice, called shari, into an oblong shape and topping it with a thin slice of (usually raw) fish, called neta. The shari sometimes contains a thin spread of wasabi. Nigirizushi is the most popular type of sushi in Japan.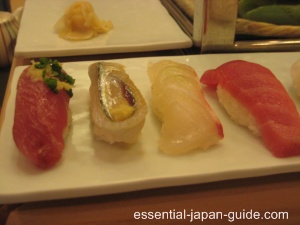 Makizushi (rolled sushi)
Makizushi is rolls of sushi made by spreading vinegared rice, nori seaweed, and neta across a bamboo mat, rolling it all up into a long cylinder, and then slicing the roll into six or eight pieces.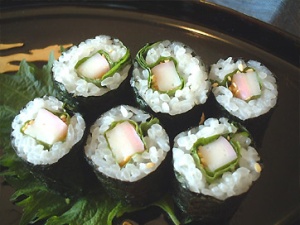 While makizushi has evolved into the most popular type of sushi in the U.S., serving as a pallet for creative combinations of ingredients that go far beyond basic Japanese flavors, makizushi in Japan tends to be much simpler, often consisting of just a single ingredient or two.

Futomaki (plump sushi rolls)
Futomaki is a plumper version of makizushi that contains three or four color- coordinated ingredients, such as cucumber, egg, and pickled daikon radish.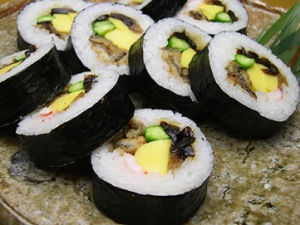 Temakizushi (hand-rolled sushi)
Temakizushi is made by hand-rolling a piece of nori into the shape of a cone with the rice and neta on the inside.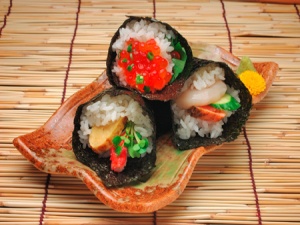 Learn How to Make Delicious Temaki Sushi!

Oshizushi (pressed sushi)
Oshizushi is made by pressing the ingredients inside of a wooden mold. This type of sushi is popular in Japan's Kansai region.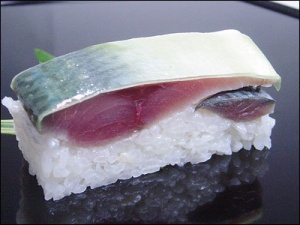 Inarizushi (fried-tofu filled sushi)
Inarizushi is a pouch of fried tofu, called abura-age, usually filled just with vinegared rice.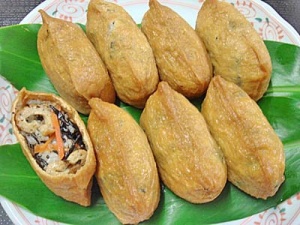 Chirashizushi ("scattered" sushi)
Literally meaning "scattered sushi," chirashizushi is a bowl of vinegared rice topped with an assortment of chopped up neta, commonly including egg, fish roe, and shrimp.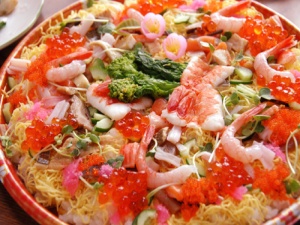 Sashimi (slices of raw fish)
Sashimi is slices of raw fish without the bed of rice. At restaurants, sashimi is often presented as a colorful assortment of raw fish artfully arranged on a platter.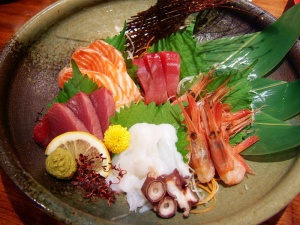 Onigiri (rice balls)
Onigiri are (usually) triangle-shaped balls of rice that contain fillings like salmon and tuna, and even natto, and are wrapped up in a piece of nori. Onigiri are favorite snacks to enjoy on the run in Japan, and are a staple at any convenience store.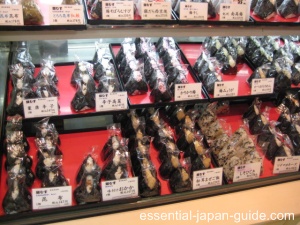 Where to Eat Japan Sushi

Upscale sushi bars
Japan's freshest and priciest sushi, prepared by renown chefs, can be found in exclusive, upscale sushi bars, such as those found in the posh Tokyo district of Ginza. A sushi dinner at these sushi bars can run upward of 20,000 yen per person or even more.

Tsukiji Fish Market
Another great place to enjoy ultra-fresh Japan sushi at a slightly more reasonable cost is the famed Tsukiji Fish Market in Tokyo. First check out the wholesale buying and selling that takes place at the market at crack of dawn. Then head to one of the well-known nearby sushi bars for unbelievable breakfast featuring the catch of the day. Expect to pay about 5,000 yen or more for the chef's Omakase course.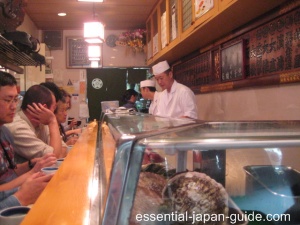 Check out our review of Sushi-Dai, an incredible restaurant in the Tsukiji Market area.

Kaiten-zushi (revolving sushi restaurants)
Kaiten-zushi (often mispronounced in English as kaiten sushi) is a fun, casual, and affordable sushi dining option. At these restaurants, plates of sushi revolve around the seated customers on a conveyor belt. Learn more about Japanese kaiten-zushi restaurants!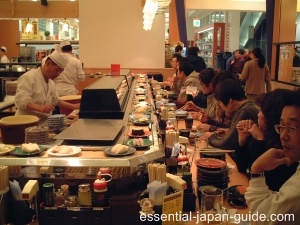 As mentioned above, prices vary by plate color, and also by restaurant. The cheapest kaiten-zushi restaurants advertise 100-yen per plate sushi. Most offer sushi with prices ranging between around 200 yen to 700 yen per plate. Quality also varies accordingly.

Standing Sushi Bars
These sushi bars have become more prominent in recent years. As the name suggests, at these bars customers order up and eat while standing. With prices starting from as low as around 75 yen per piece, this is about the most inexpensive sushi-eating option you can find in Japan.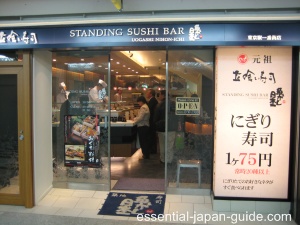 If you're a sushi lover, with the incredible variety and quality of offerings, bring your chopsticks and your appetite, because you'll feel like you've arrived in heaven during your time in Japan.