Japan Temples and Shrines
Awe inspiring Japan temples and shrines are found in abundance and such historically rich locations as Kyoto, Nara, Kamakura, all of which at one time served as Japan's capital city and center of art, culture, and religion.
Another area that is a popular destination for viewing temples and shrines is Nikko, where the mausoleums of the first Tokugawa shoguns are located. And of course, there are plenty of awe fascinating as well as Japan's present-day capital, Tokyo.
In our guide to the temples and shrines of Japan, we highlight Japan's most culturally important and interesting to visit Buddhist temples and shinto shrines.

Tokyo Temples and Shrines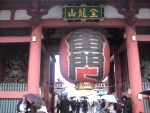 Sensoji Temple is Tokyo's oldest and most visited temple. Sensoji is distinguished by its Kaminarimon outer gate that is a popular spot for taking photos, as well as Nakamise, the corridor of shops that leads to the temple.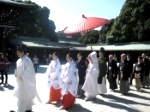 Meiji Shrine is located in an expansive, 700,000 square-meter forest just beyond the cosplay mania outside of Harajuku Station. As such, the shrine is a beautiful, tranquil space that has become a popular Tokyo attraction among Japanese and foreign visitors alike.

Kyoto Temples and Shrines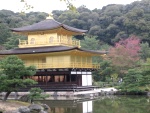 Kinkakuji Golden Pavilion is a beautiful gold-colored temple built on the edge of a reflective lake and surrounded by an exquisite Japanese Garden. It is among Japan's most well-known temples, and is one of the most popular Kyoto tourist attractions. UNESCO World Heritage Site.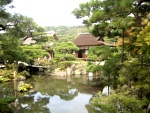 Ginkakuji Silver Pavilion is a Kyoto temple with an immaculately sculptured Zen sand garden, a tranquil Japanese pond, and lush wooded grounds, making this temple a worthwhile Kyoto sightseeing attraction to visit. UNESCO World Heritage Site.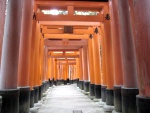 Fushimi Inari Shrine is a Shinto shrine in Kyoto famous for its astounding number of torii gates that wind endlessly up the mountainside. Many visitors overlook this shrine, but it is a spectacular attraction that is definitely worth visiting while in Kyoto.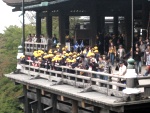 Kiyomizu Temple is a spectacular Kyoto temple with a massive veranda overlooking the city of Kyoto and the wooded grounds below. Listed as a UNESCO World Heritage Site, this is one Kyoto attraction you won't want to miss
Keep checking back as we continue to update our guide to the best Japan temples and shrines!