Japanese Donuts
Japanese Donuts…You may be surprised to learn that Japanese people love donuts! Popular chains like Mister Donut attract crowds of young donut lovers. And new upscale gourmet donuts and even baked donuts are also gaining popularity in Japan.

Characteristics of Japanese Donuts
Japanese-style donuts are similar to American-style donuts in that they are round and have hole in the middle. But that's about where the similarity ends. Japan's donuts tend to be a bit on the smaller side, and they are significantly less sweet than American donuts.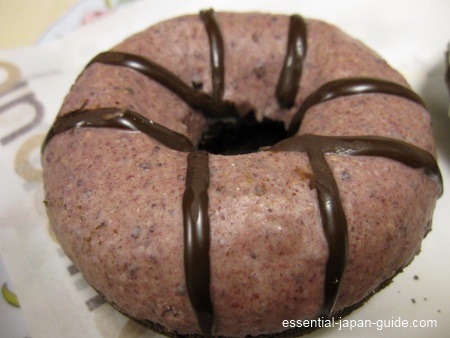 Japanese-style donuts are quite innovative. In Japan you'll find donut varieties like matcha green tea flavored donuts and azuki red bean flavored donuts, as well as gourmet upscale donuts targeting adult tastes and even baked donuts for the calorie conscious!

Where to Eat Japanese Donuts
Mister Donut
With over 1,000 locations nationwide, Mister Donut is Japan's largest and most popular donut chain. Mister Donut is a favorite date spot for young couples, study spot for college students, and conversation spot for young women.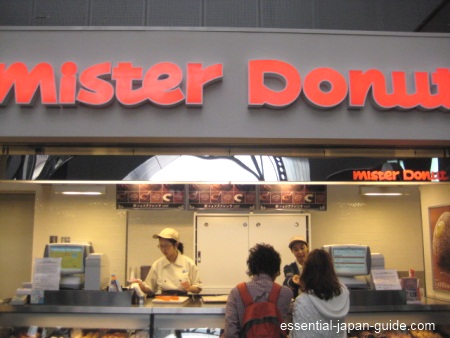 Mister Donut Japan boasts a huge selection of inexpensively priced donuts, with flavors including everything from classics varieties like glazed, cream filled, and chocolate to unique Japanese offerings like matcha green tea and azuki red bean donuts.
Mister Donut is a great spot for donut enjoyment and people watching alike.
Mister Donut donut lineup (Japanese only)

Krispy Kreme Japan
When Krispy Kreme opened in Japan several years ago, it created such a sensation that customers lined up for up to several hours for a donut! And at Krispy Kreme Japan's Shinjuku location at Shinjuku Southern Terrace just outside of Shinjuku Station, you'll still find Japanese donut fans lined up outside the shop! If you don't believe us, check out this video!
In addition to the now infamous Krispy Kreme Shinjuku location, there are about 15 other locations in the greater Tokyo area, including shops in Shibuya (just beyond Hachiko Crossing) and Yokohama (in Minato Mirai). But do yourself a favor and visit the Shinjuku location on the weekend not for the donuts, but for the bizarre sight of the huge lines!

Cafe AndonAnd
Cafe AndonAnd is operated by Mister Donut and describes itself as a gourmet donut cafe for adults. Indeed, here you'll find innovative and sophisticated flavors like caramel almond, blueberry cream cheese, lemon tea, and even a unique creme frosted donut served with a side of espresso, which you pour over the donut prior to eating!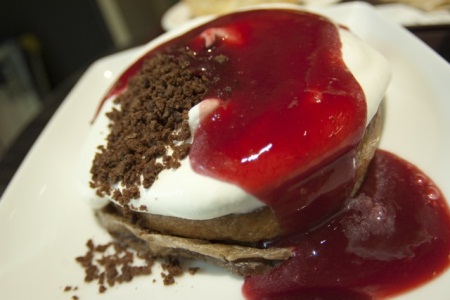 AndonAnd Donut Cafe presently has seven locations, with the most easily accessible cafe located just beyond the Apple store in Shibuya and before C.C. Lemon Hall on Koen Dori.

Miel Baked Donut (Japanese Baked Donuts)
Baked donuts? Indeed. Appealing to calorie counting, health conscious Japanese, Miel Baked Donut is a small chain that bakes and sells baked donuts. Unique flavor offerings include baked sweet potato, rum raisin, cocoa, and kinako.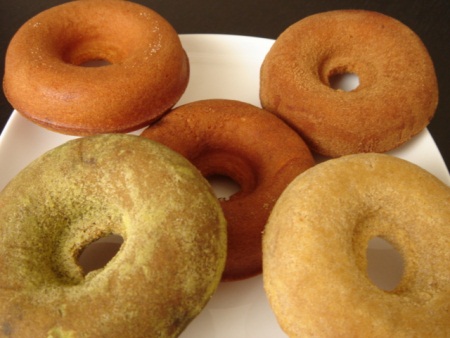 The chain currently has about 10 locations nationwide, including its flagship shop in Ginza and an additional location on the Depachika food court level of Printempts Ginza department store.
If you're a donut lover, you'll definitely want to check out the many unique flavors and varieties of Japanese donuts!