Japanese Hot Springs Resorts
No Japan travel adventure is complete without indulging in the pleasure of soothing Japanese hot springs, or onsen. With thousands of onsen scattered throughout the country, wherever you are in Japan is just a short distance away from a blissful experience you'll never forget.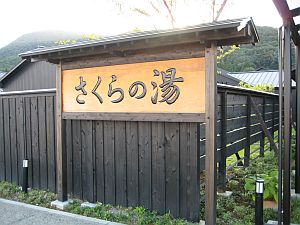 Visiting onsen is a favorite pastime among Japanese tourists, and for good reason. Thousands of hot springs, or onsen, occur naturally throughout Japan as a result of Japan's volcanic sub-terrain. These springs emit hot spring water full of natural minerals thought to contain soothing healing benefits.

Types of Japanese Hot Springs Resorts
Japanese hot springs, or onsen, can refer to the actual spring, or the resort facilities that host it. Hot springs are often part of a ryokan, appropriately called onsen ryokan, but sleeping accommodations can sometimes be Western style. Some onsen resorts do not have overnight accommodations at all, and are meant to be used as day excursions. Conversely, many Japanese onsen resorts that offer overnight lodgings also welcome day visitors.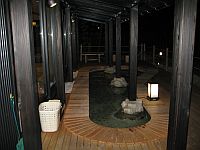 The actual hot spring baths can be located indoors or outdoors. The outdoor baths are called rotenburo. The best rotenburo are surrounded by scenic landscapes, and are perhaps the pinnacle experience of onsen bathing. Many onsen resorts provide several varieties of indoor and outdoor baths, sometimes with each containing different types of minerals, with specific healing properties.
In addition, many Japanese hot springs resorts also provide saunas, steam rooms, and other related spa facilities. One type of sauna particularly popular in Japan right now is a low-temperature hot-stone sauna called ganbanyoku, in which users lay atop different types of flat stones embedded into the floor to gain various healing and detoxification benefits.

Japanese Onsen Hot Springs Bathing Tips
Many travelers to Japan are intimidated by the prospect of sharing a bath with strangers. Granted, it takes a bit of getting used to, but the pleasurable experience that awaits is more than worth the initial discomfort. Here are a few quick bathing tips to help make the process easier.

Most onsen are separated by gender, although there are a some that offer mixed bathing. Please be aware that in Japan, bathers traditionally bathe in the nude, and that bathing suits are generally not allowed. There are, however, some onsen ryokan that also offer "kashikiri" baths that can be rented for private use by individuals, couples, and families.

Once inside the onsen resort, store your clothing and other belongings in a locker in the changing room (also separated by gender of course).

You will normally be given a large towel for drying, and a smaller towel for washing. After washing, the smaller towel can be rinsed out and used to keep select areas of your body covered up a bit if you like.

Be sure to wash and rinse thoroughly in the wash areas provided before actually hopping into the onsen.

You may find onsen quite a bit hotter than you're used to. Take your time getting in. Likewise, don't spend too much time in the bath at once. If you start feeling hot or dizzy, just get out and sit beside it until you cool down. Some resorts also provide a cold pool or shower to help you cool down.

If you have tattoos, you be be prohibited from using an onsen. This is because in Japan, tattoos are generally associated with yakuza (Japanese gangsters). If you have any noticeable tattoos and want to enjoy onsen in Japan, your best option will probably be to reserve a kashikiri bath (see above).

Popular Hot Spring Areas in Japan
Hakone Onsen (Kanagawa Prefecture)
Perhaps the most well known area for hot springs located in close proximity to Tokyo is Hakone. Hakone is a hot springs resort town less than a two-hour train ride from Tokyo. As such, it is ideal for both day trips and overnight stays.
Nikko Onsen (Tochigi Prefecture)
Nikko is most well-known as the site of the ornate mausoleum of Ieyasu Tokugawa, the famed Japanese shogun that succeeded in uniting the country. Accessible as a day trip from Tokyo but also ideal for an overnight stay, Nikko is another popular Japan travel destination that has many onsen for you to enjoy against the area's beautiful mountainous backdrop.
Beppu Onsen (Oita Prefecture)
Located on the island of Kyushu, Beppu has one of Japan's highest volumes of onsen, and is a favorite destination for bathing among Japanese tourists.
Kusatsu Onsen (Gunma Prefecture)
Located about four hours from Tokyo, Kusastsu is another famous Japanese hot springs resort area best known for the big hot field of sulfur water (yubatake) in the town center that supplies hot spring water to the surrounding resorts.

As mentioned above, not all Japanese hot springs resorts offer overnight accommodations, although there are usually ample accommodations located near areas with many onsen. We recommend a stay at an onsen ryokan in order to enjoy the total experience: immersion in the traditional flavor of a Japanese-style inn and the blissful pleasure of an onsen all in one.