Japanese Ramen Guide
Japanese ramen is a noodle soup dish, originally derived from China, that has evolved into one of Japan's most popular foods, if not an outright obsession.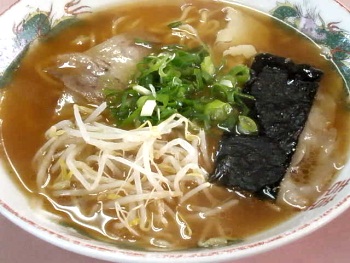 Overview of Japanese Ramen
What is Japanese ramen? It is basically a noodle soup dish derived from China but which has evolved into a wholly Japanese food that consists of noodles, a chicken- or pork-based broth, is seasoned with salt, soy sauce, or miso, and packed with ingredients like sliced pork, fish cake, onions and scallions, bean sprouts, hard-boiled eggs, and nori.

Varieties of Japanese Ramen
Ramen is typically categorized according to its basic underlying flavor. There are four basic types of ramen: shio, a salt-based ramen; tonkotsu, a pork-based ramen; shoyu, a soy sauce-based ramen; and miso, a miso-based ramen.
Shio Ramen
Shio ramen is made with a clear, chicken-based broth and is seasoned with salt, but without miso or soy sauce. This is the lightest and simplest style of ramen, and typically includes ingredients like onions, scallions, and pork or chicken meatballs.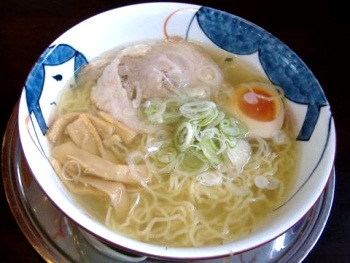 Tonkotsu Ramen
Tonkotsu ramen consists of a thick, white broth made by boiling pork bones and other ingredients for hours until it forms into a thick, milky broth. Sometimes this broth is also combined with soy sauce.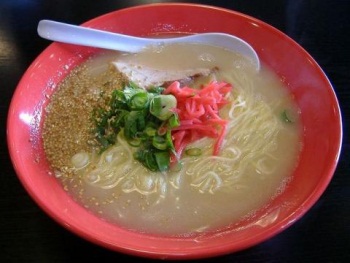 Shoyu Ramen
Shoyu ramen is made of a broth created from a chicken, vegetable, or pork base and seasoned with soy sauce. Typical tonkotsu ramen ingredients include sliced pork, nori, fish cakes, boiled eggs, and bamboo shoots.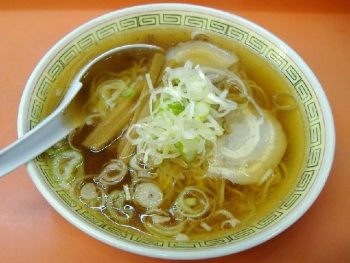 Miso Ramen
Miso ramen originated in Sapporo, and is the most recently developed of Japan's four basic ramen flavors. This type or ramen consists of a thick, miso-flavored chicken or fish-based broth that makes for a stew-like dish ideal for Hokkaido's chilly winters. Ingredients include cabbage, bean sprouts, corn, leeks, onions, and pork.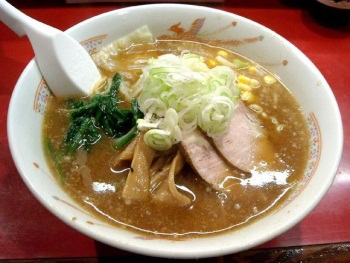 Japanese ramen also differs by region, and further, from shop to shop in terms of flavor and type of noodles and other ingredients used. Each shop and each region of Japan takes pride in creating what they believe to be the perfect bowl of ramen.

Where to Eat Ramen in Japan
Ramen is hugely popular throughout Japan, and so ramen shops can be found anywhere and everywhere in Japan. Ramen shops in the greater Tokyo area alone quite possibily number in the thousands.
Yokohama Ramen Museum
One popular way to enjoy ramen and learn more about its history is to visit the Shinyokohama Raumen Museum. Located in Yokohama, Japan, this ramen museum documents the history of ramen and also gives visitors an opportunity to taste ramen dishes from different regions in Japan.
NY Ramen Square
Another great place taste ramen is NY Ramen Square, located on the third floor of the Arearea shopping complex just outside the South exit of Tachikawa Station about 35 minutes outside of Tokyo.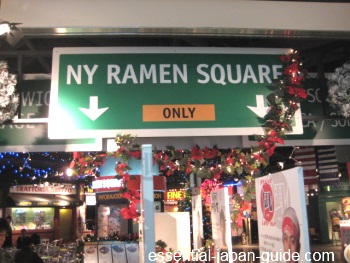 NY Ramen Square is a sort of food court of ramen restaurants, featuring several small shops serving ramen cooked up by some of Japan's best ramen chefs. The featured shops change periodically, so there's always something new to try.
NY Ramen Square can be accessed by taking the JR Chuo Line to the South Exit of Tachikawa Station.

Quick Ramen Tips

Ramen is typically not vegetarian friendly, as even ramen dishes that do not contain meat are likely made from a chicken- or pork-based broth.

Most ramen shops are small and have counter seating only. You may have to wait in line to get into some of the more popular ramen shops, especially during lunch and dinner time.

Some ramen shops require you to select and pay for your ramen using a ticket vending machine. After you insert your money and choose your ramen, it dispenses a ticket that you give to the staff behind the counter. Usually there will be no English instructions so if you don't read Japanese, you may have to improvise or find a shop without a ticket machine.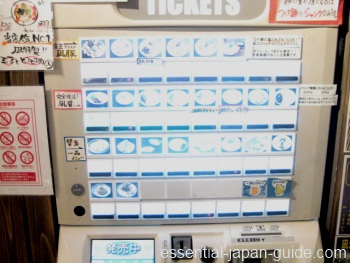 Japanese Instant Ramen
In addition to its popularity as a food enjoyed at ramen shops, packaged instant ramen is also hugely popular in Japan. Instant ramen can be enjoyed simply by adding hot water water. As such, it is particularly popular among college students and single males who are not inclined to cook, but is equally popular as a food served in Japanese households as a quick lunch or snack.
An astounding variety of instant ramen brands and flavors can be found in Japanese convenience stores and grocery stores.
Buy Instant Japanese Ramen Online!
EJG now sells authentic instant Japanese ramen online! Click on the link below to have instant ramen bliss delivered directly to your home!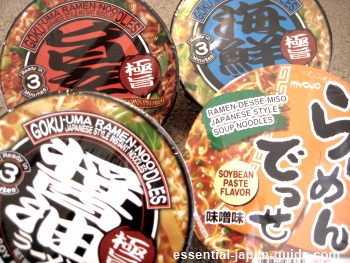 Ramen Humor
Japan's obsession with ramen is perfectly captured in the humorous Juzo Itami classic Tampopo, the "first noodle Western," in which a truck driver rolls into town and trains a struggling female ramen shop proprietor in the art of noodle soup making.