Japanese Ryokan
Nothing tops a stay at a Japanese ryokan if you want to take a step back in time and experience traditional Japanese culture, hospitality, and service at its finest.

Overview of Japanese Ryokan
Ryokan are traditional Japanese-style inns, dating back to Japan's Edo period, when they were used by wandering samurai and merchants as they made their way along the Tokaido Road that connected the capital city of Edo (modern day Tokyo) with the ancient capital of Kyoto.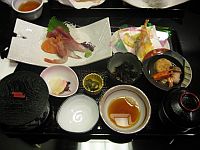 Then, as today, ryokan consisted of finely crafted shoji sliding paper screen doors, tatami mat flooring, zabuton cushions to sit on and low wooden floor tables for eating, and futon for sleeping. Some ryokan have been in operation for hundreds of years.
Most Japanese Ryokan also serve traditional Japanese food, which can range from simple fare to elaborate multi-course kaiseki meals depending upon whether the accommodations are basic or luxurious.
Some ryokan also provide indoor and/or outdoor hot springs baths, called onsen, which are an otherworldly experience of relaxing pleasure.

Japanese Ryokan Rates
Ryokan accommodations range in style from simple to luxurious, and prices vary accordingly. On average, expect to pay in the neighborhood of 10,000 yen per person for a basic ryokan. Higher-end ryokan, complete with onsen, a dinner of elegant kaiseki cuisine, and views of an elegant Japanese garden, can cost upwards of 30,000 yen per person or more. As always, rates depend upon many factors, including the day of the week, season, type of room, and meals.

Japanese Ryokan Tips
Here are a few basic do's and dont's to be mindful of when staying at a ryokan.

Most onsen are separated by gender, although there are a some that offer mixed bathing. Please be aware that in Japan, bathers traditionally bathe in the nude, and that bathing suits are generally not allowed. There are, however, some onsen ryokan that also offer "kashikiri" baths that can be rented for private use by individuals, couples, and families.

Do remove your shoes at the entrance and walk the hallways the ryokan using the slippers provided. Don't wear your shoes inside the ryokan. Do remove your slippers at the entrance of the tatami mat rooms.

Do change into a yukata robe if one is provided for you to wear inside and around the ryokan. Yukata are actually quite comfortable, and no one will look at you strangely for wearing one. On the contrary, you may feel out of place if you do not wear yours while all of the other guests are wearing theirs!

Do enjoy the bath and/or onsen if one is provided. Don't be self-conscious about entering a communal bath! It is true that you may become the object of some curiosity if you are the only foreigner in the bath. However, Japanese are among the best in the world when it comes to minding their own business, and the wondrous experience of a Japanese hot spring is too precious to pass up over a bit of self-consciousness. Do be sure to wash and rinse your body thoroughly in the wash area provided outside of the bath before you get into the actual bath.

Do step back in time and take advantage of the opportunity to stay at a traditional ryokan during your stay in Japan!