Kinkakuji Golden Pavilion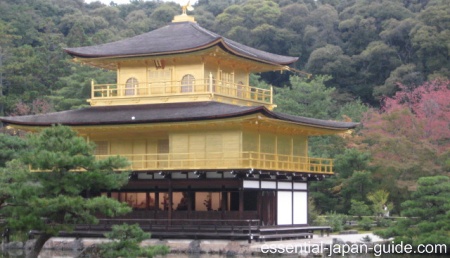 Kinkakuji Golden Pavilion is a beautiful gold-colored temple built on the edge of a reflective lake and surrounded by an exquisite Japanese Garden. It is among Japan's most well-known temples, and is one of the most popular Kyoto tourist attractions.

History of Kinkakuji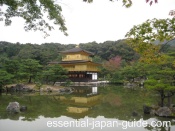 The temple was originally constructed in 1397 as the retirement residence of Shogun Ashikaga Yoshimitsu. After Yoshimitsu's death, his son converted the structure into a Zen temple of the Rinzai sect.
The Pavilion has burned down several times in its lengthy history. The most recent structure was built in 1955.
Kinkakuji is also well-known as the backdrop for famous author Yukio Mishima's classic book The Temple of the Golden Pavilion.
Features of the Golden Pavilion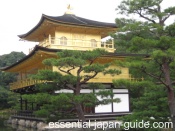 Kinkakuji is a three-story building built overlooking a reflecting pond (called Mirror Pond) and surrounded by a beautiful Japanese garden. The temple derives its name from its gold-leaf coating on the top two floors.
When to visit Kinkakuji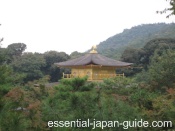 Kinkakuji is a splendid attraction to visit any time of the year, and Japan's four distinctive seasons provide the Pavilion with ever-changing seasonal backdrops that make this Japan attraction an ideal photo-taking spot.
However, our favorite time to visit Kinkakuji is around early- to mid-November, when the golden building is surrounded by brilliant autumn colors, all of which are reflected off of Mirror Pond in a scene of other-worldly beauty.

How to Get to Kinkakuji
Take bus #101 or #205 from Kyoto Station to the Kinkakuji-michi stop. Cross the street and walk a couple hundred meters to the temple entrance.
Golden Pavilion Hours of Operation and Admission
Open each day from 9:00 to 17:00
Entrance fee is 400 yen for adults; 300 yen for children