Kiyomizu Temple
Kiyomizu Temple (Kiyomizudera) is a spectacular Kyoto temple with a massive veranda overlooking the city of Kyoto. Listed as a UNESCO World Heritage Site, this is one Kyoto attraction you won't want to miss.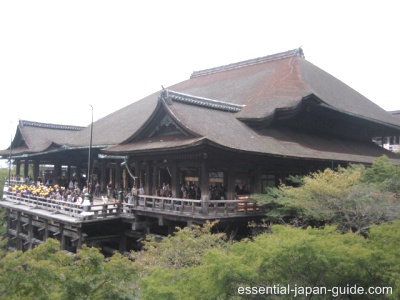 History of Kiyomizudera
Kiyomizudera was originally built in the late 700s during the Heian Period. Its existing buildings were constructed in 1633 under the directive of the shogun Tokugawa Iemitsu. In 1994, the temple was listed as a UNESCO World Heritage Site. Today, the temple is one of Kyoto's most visited and popular attractions.

Features of Kiyomizudera
The Kiyomizudera experience actually begins as you walk up the narrow street lined with little shops lined with all kinds of traditional Japanese souvenirs like fans, zori sandals, and kimono, as well as sweets and other goodies.
One of the most popular shops along the street leading to the temple is Yatsuhashi, a famous candy shop.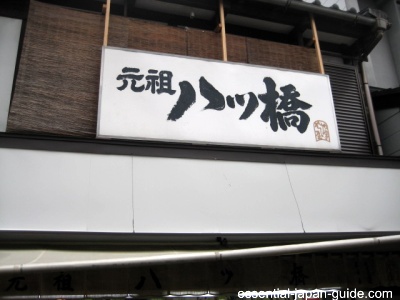 Here you can stop inside and sample every one of the flavors the shop has to offer!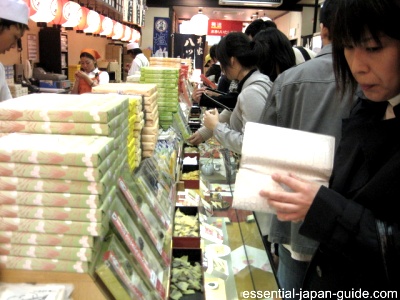 At the base of the temple grounds, you'll climb a steep flight of stairs leading to the entrance of the temple.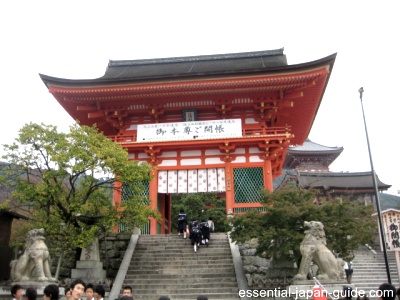 Kiyomizudera is a very popular destination for school trips, attracting schoolchildren from all throughout Japan.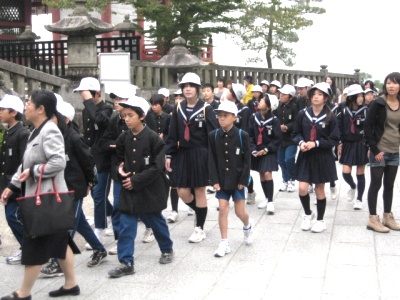 Kiyomizudera is most famous for its massive veranda off the main hall that overlooks the city of Kyoto and the wooded temple grounds.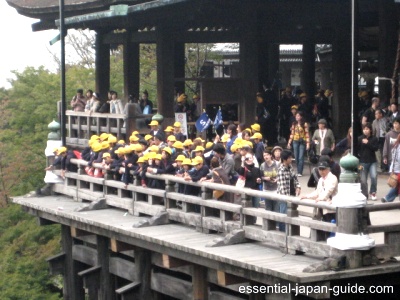 Below the veranda is a waterfall.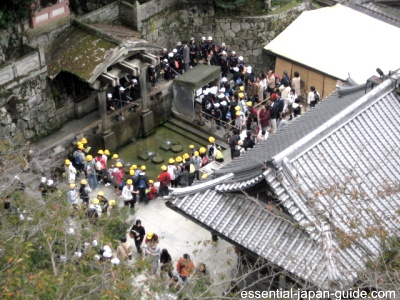 Temple visitors line up to drink the water, which is said to contain healing and purifying properties. In fact, kiyomizu literally means "pure water."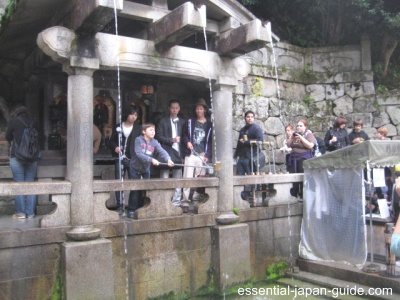 Among the many other temple features is a large cluster stone-carved jizo statues.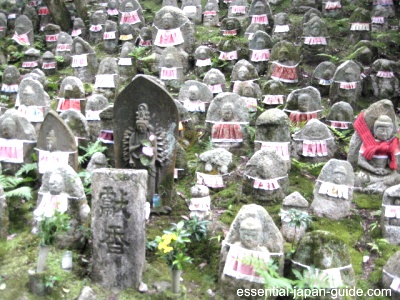 Below the veranda visitors can enjoy a peaceful Japanese-style lunch.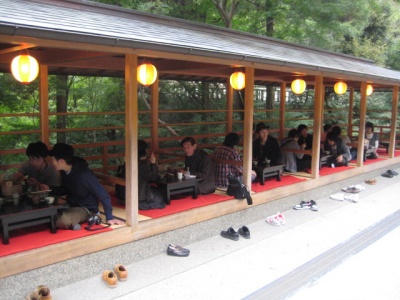 On the way back down the road, stop for some delicious Japanese-style soft-serve ice cream (flavors listed include macha green tea, black sesame, chestnut, and vanilla).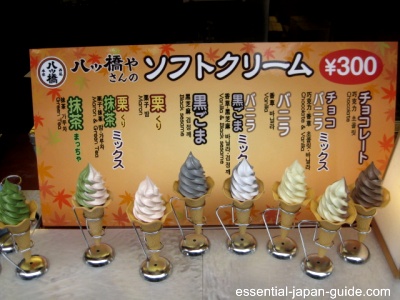 As one of Kyoto's UNESCO World Heritage sites, Kiyomizu Temple is a spectacular temple that is definitely worth a visit during your stay in Kyoto.

Directions to Kiyomizudera
By Bus: Take bus number 100 or 206 and get off at Kiyomizu-michi or Gojo-zaka; from where it is a 10-15 minute uphill walk to the temple.
Kiyomizudera Hours of Operation and Admission
Open every day from 6:00 to 18:00
Admission is 300 yen