Meiji Jingu Shrine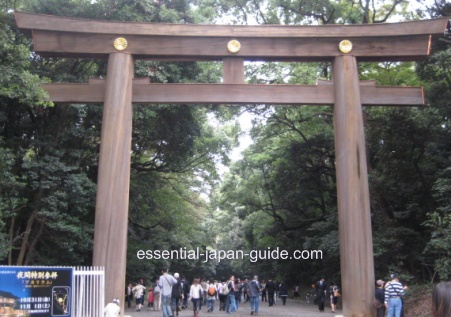 Meiji Jingu (Meiji Shrine) is a Shinto shrine dedicated to the deified spirits of Emperor Meiji and Empress Shoken. Following the death of the emperor in 1912, the Japanese people wished to commemorate his role in the Meiji Revolution, which modernized Japan, and a resolution was passed to build the shrine.
The shrine was dedicated in 1920. The original building was destroyed in the air raids on Tokyo during WWII. The existing structure was rebuilt in 1958.

Features of Meiji Shrine
Meiji Shrine is located in an expansive, 700,000 square-meter forest. As such, the shrine is a beautiful, tranquil space that has become a popular Tokyo attraction among Japanese and foreign visitors alike.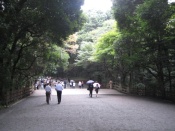 Meiji Shrine is known for its two massive picturesque torii gates built of ancient cypress wood that give dramatic entrance to a long, wooded pathway leading to the Inner Shrine.
The shrine actually consists of two major areas:
Naien: the inner shrine area, where the shrine buildings are located.
Gaien: the outer shrine area, a park area that includes the Meiji Memorial Picture Gallery and sports facilities like the Jingu Baseball Stadium, a tennis club, Ice Rink, and even a golf driving range.

Meiji Shrine Events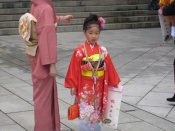 Meiji Shrine hosts many annual Japanese ceremonies and festive occasions, including a coming-of-age ceremony (Seijin-no-Hi) for young adults, a doll festival (Hina Matsuri) for young girls, and memorial ceremonies for the departed Meiji Emperor and Empress.
Meiji Shrine is also a popular spot for traditional Japanese Shinto wedding ceremonies, and is famous for its massive New Year's Eve celebration, which is attended by two million people annually (be sure to sample the delicious sweet sake (ama-zake) served up during the evening).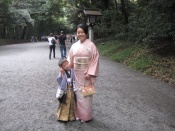 On and after New Year's Day, Meiji is a common destination among Japanese for Hatsumode, the ritual first shrine visit of the year.
Whether you're in full shrine-viewing mode, or just want to take a break from the cosplay mania a few steps away in Harajuku, Meiji Jinguis a worthwhile Tokyo attraction!

Directions to Meiji Jingu
Meiji Shrine is located just steps away from Harajuku Station on the Yamanote Line or Meiji-jingu-mae Station on the Chiyoda Subway Line.
Gaien, the outer shrine area, is most easily accessed from Gaienmae Station on the Ginza Subway Line.
Hours of Operation and Admission
Meiji Shrine is open all day every day; admission is free
Other Nearby Attractions