Minato Mirai 21 Guide
Minato Mirai 21 (MM21) is the product of a massive development project, begun in 1983, that dramatically transformed Yokohama's central waterfront area from an industrial shipping yard into Japan's newest and most exciting destination for shopping, dining, and commerce, and entertainment.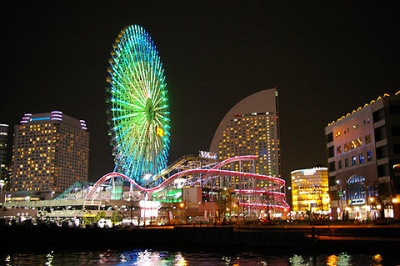 Minato Mirai 21 Attractions
Minato Mirai attractions include Landmark Tower, Japan's tallest building, Cosmo Clock 21, a huge illuminated ferris wheel, Queens Square, a modern office and shopping complex, and Akarenga, a pair of antiquated red brick warehouses that have been transformed into an exciting boutique shopping and event complex.
Landmark Tower | Landmark Plaza
A symbol of Yokohama and Japan's tallest building at 296 meters high, Landmark Tower is a 70-story skyscraper that contains a hotel and an observation deck on the 69th floor with stunning views of the city and beyond. The Yokohama Royal Park Hotel is located on the top floors of this building.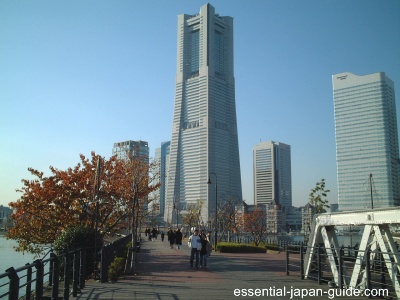 The adjacent Landmark Plaza offers several floors of dining and upscale shopping. There is a Yurindo Bookstore here with a large selection of English-language books and magazines, as well as a Capricciosa Italian Restaurant.

Yokohama Maritime Museum | Nippon-Maru Memorial Park
Located just outside Landmark Tower, the Yokohama Maritime Museum's many interactive displays showcase Japan's maritime history and Yokohama's historical role as an important international port.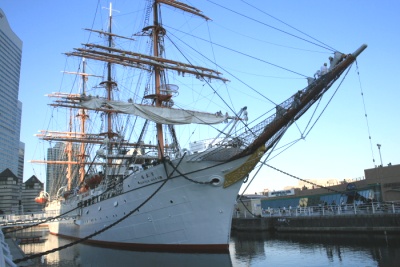 Once called the "Swan of the Pacific," Nippon-Maru is a retired four-masted sailing ship that was launched in 1930. The ship was used as a marine training vessel. Today it is has become a Minato Mirai 21 symbol, and is now docked permanently so visitors can tour the ship and get a close-up look at a shipping vessel from a bygone era.

Queen's Square
Queen's Square is an ultra-modern complex of state-of-the-art facilities offering fine foods, exciting shops, concert halls, hotels, and office space. Shopping includes men's, women's and kids' clothing, cosmetics, beauty and health products, character goods, lifestyle & living, and much more.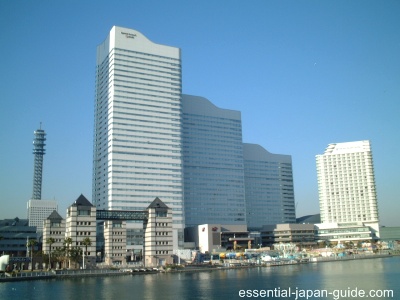 Queen's Square dining options include restaurants offering Japanese, Chinese, Korean, Thai, and Western cuisines as well as bakeries and cafes. The Hard Rock Cafe Yokohama is located here. More Queen's Square Info.
Recommended at Queen's Square!

Kihachi Italian – Tasty Italian cuisine produced by one of Japan's premier restaurant groups

Yokohama Red Brick Warehouse (Akarenga)
Akarenga is a complex of two red brick warehouses that were converted into a waterfront attraction that includes a venue for cultural events, a shopping mall filled with interesting boutique shops offering fashion, accessories, health and beauty products, hand-crafted items, as well as restaurants, bars, and cafes.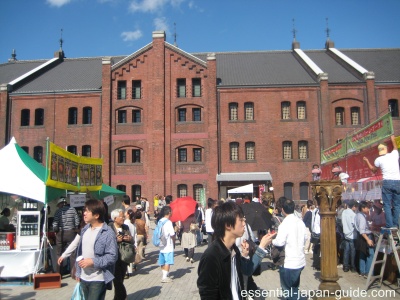 Bashamichi Ice – Unique & delicious ice cream concoctions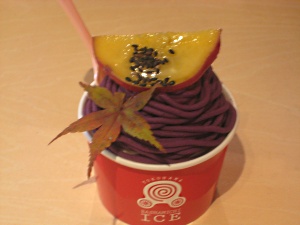 Yokohama World Porters
Located just steps from the Cosmo World amusement park, World Porters is a shopping complex that brings together an eclectic mix of fashion, interior design, food, relaxation, and cuisines from around the world. The 5th floor boasts an 8-screen Warner Mycal Cinema complex, a large video arcade, and fine dining. The 1st floor is has a cool food court with some unusual foods, as well as restaurants, bakeries, cafes, and gourmet food shops. The middle floors contain a wide selection of unique shops.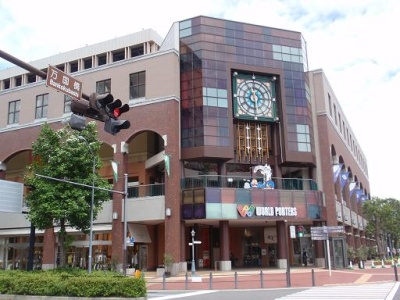 Recommended at World Porters!

Le Bon Pain – Our favorite bread bakery in all of Japan! (1st floor)


Miura Misakiko Kaiten-zushi (high-quality, affordable revolving sushi!) (1F)


SuraBaya Indonesian Cuisine- Tasty, healthy food with a cool decor (5F)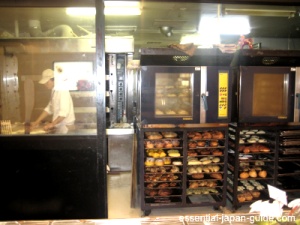 Yokohama Cosmoworld | Cosmo Clock 21 Ferris Wheel
Cosmoworld is a small but fun amusement park located at the far end of Minato Mirai. You can't miss it because of the prominent Cosmo Clock 21 ferris wheel that lights up the sky at night. Admission to Cosmoworld is free, and you pay for each ride individually. Attractions include a water plunge ride and the "Vanish" roller coaster that disappears under the water.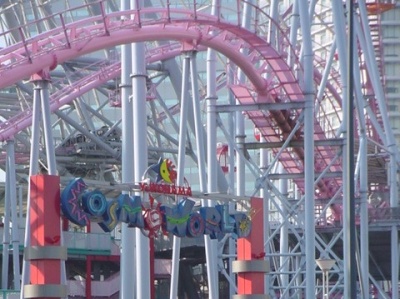 The main attraction of Cosmoworld is the Cosmo Clock 21 Ferris wheel. Just a couple meters shy of being the highest Ferris wheel in Japan, this attraction is 112.5 meters high, seats up to 480 people at a time, takes 15 minutes to complete an orbit, and provides stunning views of Minato Mirai and the ocean beyond. At night, Cosmo Clock 21 lights up the sky with a colorful light show that resembles a fireworks display.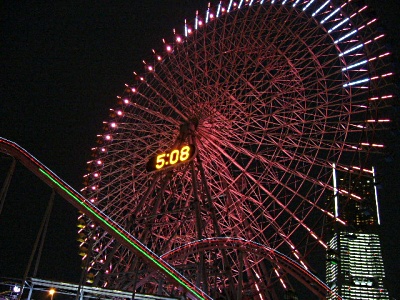 Minato Mirai 21 Hotels and Convention Facilities
There are several first-class hotels and convention facilities centrally located within the Minato Mirai 21 development.
Pacifico Yokohama Convention Complex
Pacifico Yokohama is an event complex that provides facilities to meet the needs of world-scale conventions. This complex is easily identifiable by the large building that is shaped like a sail.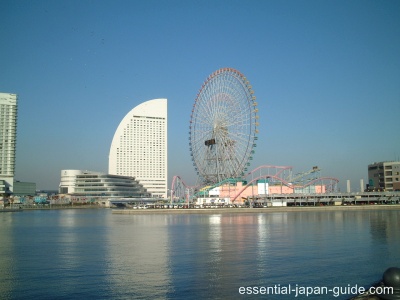 Facilities include an Annex Hall, Exhibition Hall, the Inter-Continental Yokohama Grand Hotel, a large Convention Center, and the National Convention Hall of Yokohama. It is also home to the Inter-University Center for Japanese Language Studies, a renowned institution for intensive Japanese language instruction.
Just outside the complex is Rinko Park, a quaint grassy park overlooking Yokohama Bay. More Pacifico Yokohama Info.

Minato Mirai Hotels

InterContinental Yokohama Grand – Located within Pacifico Yokohama


Pan Pacific Yokohama Bay Hotel – Located adjacent to Pacifico Yokohama


Yokohama Royal Park Hotel – Located on the top floors of Landmark Tower


NAVIOS Yokohama – Located next to World Porters


Washington Hotel – Located next to Sakuragicho Station

Minato Mirai 21 Access
Minato Mirai can be accessed from either Sakuragicho Station or Minatomirai Station. See the diagram below for specific train lines.