Nagoya Travel Guide
(名古屋)
In our Nagoya travel guide, EJG resident travel guide Kaori-san recently visited the city of Nagoya, where she visited a number of the city's top sightseeing spots and sampled many of Nagoya's unique food offerings!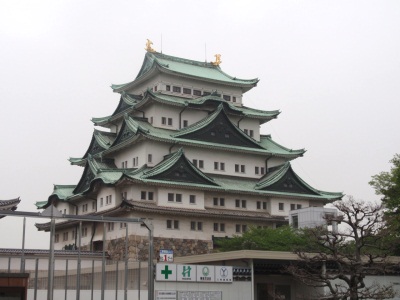 Nagoya Quick Facts
Nagoya is Japan's third-largest incorporated city and fourth most populated urban area, with about 2.17 million people. Nagoya is the capital of Aichi Prefecture. A city with a strong industrial base, Nagoya also has many attractions well worth visiting as well as some unique and flavorful dining options!

How to Get to Nagoya from Tokyo
In order to get from Tokyo to Nagoya, from Tokyo Station, take the Nozomi shinkansen bullet train along the Tokaido Shinkansen route from Tokyo Station to Nagoya Station. The ride takes about 1 hour 40 minutes, and costs 10,780 yen.
If you are using a Japan Rail Pass, which excludes Nozomi trains, alternatively you can take the Hikari shinkansen, which takes a bit longer (around 2 hours), but accepts the JR rail pass.

Nagoya Trip Report
Our EJG resident travel guide Kaori-san recently visited the city of Nagoya, where she visited a number of the city's top sightseeing spots and sampled many of Nagoya's unique food offerings!
Take it away Kaori-san!…
I recently visited Nagoya for three days and two nights. During my stay, I visited three of Nagoya's well-known attractions: Nagoya Castle, the Tokugawa Art Museum, and Museum Meiji-Mura.

Nagoya Attractions
Nagoya Castle
This symbol of Nagoya is most famous for the Golden Dolphins that adorn the castle roof. The castle's observation deck provided an amazing view of downtown Nagoya. It might be useful to have a map of Nagoya handy in order to identify all of the many sights visible from the top of the castle.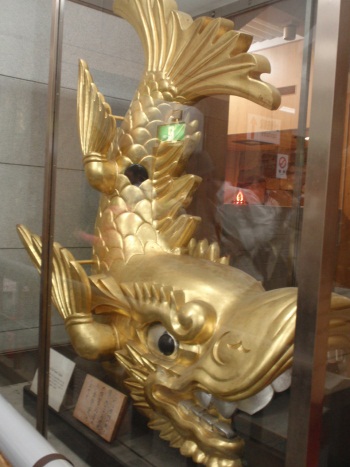 Within Nagoya Castle, many fascinating items were on display, including castle armor, helmets, and swords. One of the exhibit halls features a reproduction of the castle town, where you can experience a day in the life of the castle lord and his townspeople. This was definitely my favorite exhibit. There is even a full-scale replica of the Golden Dolphin, with which you can sit and take a photo!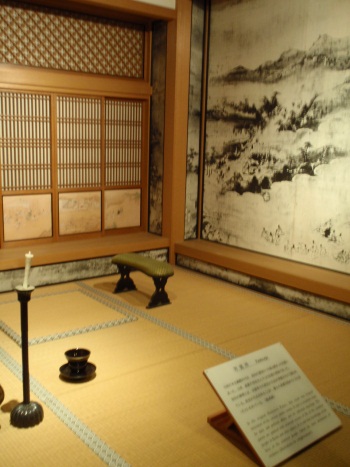 Surrounding the castle is a beautiful, tranquil garden. Many cultural events are held throughout the year at this garden and at the nearby park.
Nagoya Castle Access
A 5-minute walk from Shiyakushyo Station along the Subway Meijyo Line.

The Tokugawa Art Museum
The Tokugawa Art Museum features a collection of over 10,000 objects that were actually used by the Tokugawa Shoguns during the Edo Period (1603 ~ 1868) beginning with Tokugawa Ieyasu, the first shogun. Many of the articles on display, such as priceless armor, swords, and tea ceremony instruments, will be familiar to foreign visitors as traditional Japanese items. Other exquisite items include Noh drama masks and performance kimono, and even a priceless 12th century illustrated handscroll of The Tale of Genji, Japan's most famous novel.
The museum's gift shop is well stocked with many interesting items for a fun shopping experience.
Tokugawaen (Tokugawa Garden)
Adjacent to the museum is Tokugawaen, a traditional Japanese garden complete with little ponds and mini waterfalls, allowing visitors to enjoy the natural beauty inherent in Japan's four distinct seasons in a uniquely tranquil Japanese atmosphere.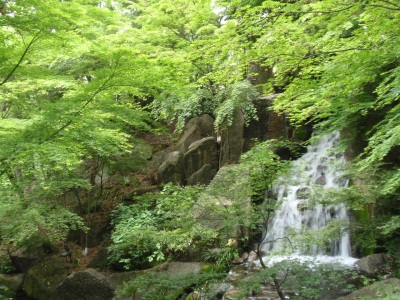 Tokugawa Museum Access
15-minute walk from Oosone Station along the Subway Meijyo Line, or take the city bus from Sakae or from Nagoya Station.

Museum Meiji Mura (Meiji Village)
The Meiji period (1868~1912) was the period immediately following the Edo period during which Japan opened itself up to the outside world and laid the foundation for modern Japan by absorbing and assimilating Western technology and culture. It was also during this period that Japan's industrial revolution took off.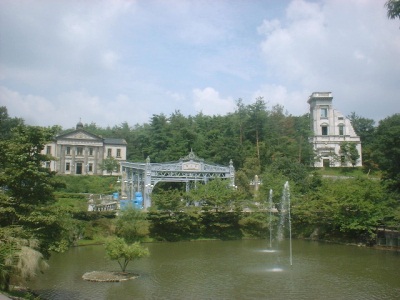 Meiji-Mura is a collection of historical architecture from the Meiji period transported from throughout Japan into one central location in the form of an open-air museum village that re-creates the atmosphere of Meiji culture as it existed at that time.
Many of the buildings on display at the museum have been designated as Important Cultural Property. Meiji-Mura is often used as the background setting for many films and TV shows. The village gardens contain an abundance of trees, plants and flowers that enable visitors to experience Japan's four distinct seasons in this unique Meiji-themed setting.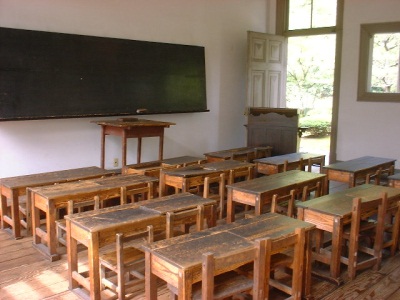 Meiji-Mura is a vast open-air museum with an abundance of interesting attractions, so expect to devote the better part of a full day in order to enjoy each attraction. In fact, I wasn't even able to see everything the museum had to offer. If you're pressed for time, it might be a good strategy to plot out an abbreviated course on your map of the attractions you most want to see.
Meiji-Mura also offers many unique and tasty Japanese food items, so I recommend trying out as many as you can as you enjoy your stroll through the museum. I tried an Ogura Roll (a hot-dog-like bun filled with adzuki beans and whipped cream), and it was delicious!
Meiji-Mura Access
Take the Meitetsu Line from Meitetsu Nagoya Station. Get off at Meitetsu Inuyama Station. From there, it's a 20-minute bus ride from the East Exit bus stop. There is also a direct bus that departs from the Meitetsu Bus Center adjacent to Nagoya Station or from Sakae Oasis21.

Nagoya Food
In this section, I'd like to introduce some of the local food items I sampled while in Nagoya.
Kishimen Noodles
Like udon, kishimen noodles are made by kneading together water, flour, and salt, but are somewhat thinner and flatter than regular udon noodles. Being thinner and flatter, a single noodle is also much longer than regular udon. Kishimen are usually boiled and enjoyed in a hot broth with various toppings. Compared to udon, kishimen noodles slither smoothly into the mouth, and so are easy and fun to eat.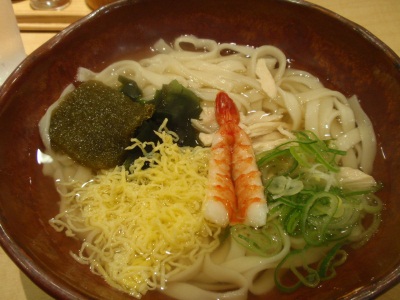 I ate here!
Ekikama Kishimen (Japanese text only)

Hitsumabushi (Grilled Eel on Rice)
In Japan, eel is thought to provide stamina, and so Japanese like to eat it during the hot summer months for a boost of energy. Eel is most commonly dipped in a sweet soy sauce base, broiled on a grill, and served atop a bed of rice. Hitsumabushi is Nagoya's spin on this popular dish.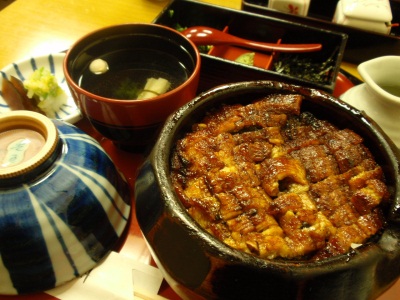 How to Eat Hitsumabushi
In Japanese, Hitsu is the large rice bowl, and Mabushi in this case means to adorn the rice with small pieces of barbecued eel on rice. In Nagoya, there is a special formalized way to eat hitsumabushi.
1) Take your first serving or rice from the large bowl and place it in a smaller rice bowl, and simply eat as is (rice and barbecued eel with sweet soy sauce baste).
2) Take a second serving from the large bowl and enjoy with the accompanying toppings (green onion, nori seaweed flakes, and wasabi)
3) Take a third serving and pour over a tea broth (ochazuke)
4) Finally, enjoy the remaining portion of the dish any way you like!
The eel I ate had such a delicious aroma that it stirred up my appetite! The char-grilled eel and sweet basting sauce complimented each other perfectly and the eel was delicious. I could have kept on eating it in its original form, but when I added the toppings, the heat of the wasabi produced a completely different yet still delicious taste sensation in my mouth. The third serving with the ochazuke was also tasty, but for my final serving, I went back to the eel with assorted toppings.
I ate here!
Atsuta Houraiken (Japanese text only)

Miso Katsu (Pork Cutlet with Miso Sauce)
Miso katsu is a pork cutlet flavored with a Hatcho Miso based miso sauce. In addition to the miso, each shop adds its own secret blend of ingredients like bonito flavored broth and sugar to give the dish its own special flavor. Most miso katsu dishes have a somewhat salty-sweet flavor, but each restaurant is different, so it can be fun to eat the dish at a few different places and compare flavors.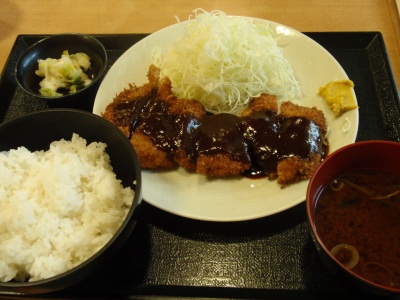 The sweet saltiness of the miso is best eaten with a generous helping of rice. The side dish of crunchy shredded cabbage compliments the dish perfectly.
Nagoya locals love red miso (also called Hatcho Miso). Compared to white miso, red miso has a touch of saltiness with less sweetness. Both miso katsu and Miso Nikomi Udon (introduced below) are made with a red miso base.
Local Nagoyans use a variety of miso sauces. Red miso is also favored in Nagoya for miso soup. I encourage you compare these red miso-based dishes with the traditional miso flavor you are probably more accustomed to.
I ate here!
Tonkatsu Ishika (Japanese text only)

Miso Nikomi Udon (Noodles Cooked in Miso)
Traditional udon is made by shaping udon noodles from flour, salt and water, boiling the noodles, and then adding broth to it. In contrast, miso nikomi udon is made by shaping noodles with flour and water only, sans salt, and then simmering the raw noodles directly in a pot in a miso-based broth. This cooking process results in a firmer noodle with more texture to the bite. The restaurant I ate at used a broth consisting of a mixture of red miso and white miso.
When I tried this dish, I initially thought that the noodles hadn't been cooked through fully, and said as much to the restaurant staff, to which he smilingly replied, "that's how miso nikomi udon is supposed to be." As I continued to eat, the firmness of the noodles began to really go well with the broth, and by the end of the meal, I was increasingly enjoying my dish down to the last bite!
Toppings for this dish vary by shop, but among the most common are aburage (a fried tofu pouch), kamaboko (a type of fish cake), and raw egg. The firmness of the noodles also varies by shop.
I ate here!
Yamamotoya Honten (Japanese text only)
Special EJG thanks to Kaori-san for her contribution to the EJG Nagoya travel guide!