Nikko Travel Guide
 (日光)
Nikko Travel Guide…Nikko is a city to the north of Tokyo that is a popular tourist destination famous for the mausoleums of the Tokugawa shoguns, which are UNESCO World Heritage Sites, as well as soothing onsen hot springs surrounded by a breathtaking landscape of wooded mountains, waterfalls, and scenic hiking trails.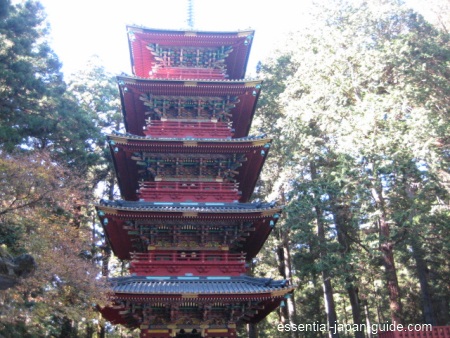 Overview of Nikko
Nikko, a city in Tochigi Prefecture, is located about 140 kilometers north of Tokyo. A popular tourist destination among Japanese and foreign visitors alike, Nikko is best known for the shrines and mausoleums dedicated to the Tokugawa shoguns.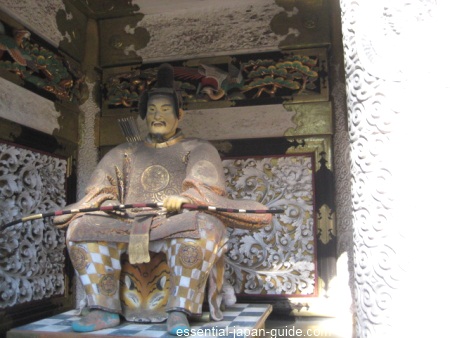 Nikko is also a popular destination for onsen hot springs, particularly the nearby Yumoto and Kinugawa hot springs resorts, as well as hiking along breathtakingly scenic trails in Nikko National Park, home to Lake Chuzenji, Kegon Falls, and other natural attractions.

Nikko Travel Guide – Nikko Attractions
Mausoleums of the Tokugawa Shoguns
Toshogu Shrine
Toshogu is the famous mausoleum and shrine dedicated to Tokugawa Ieyasu, the first shogun of Japan. In contrast to the sparse, austere architecture and design of traditional Japanese shrines, the buildings in the Toshogu Shrine compound are ornately decorated with colorful, detailed, and lavish wood carvings. Perhaps the most famous Toshogu Shrine wood carving is the carving of the three wise monkeys, who "hear no evil, see no evil, speak no evil."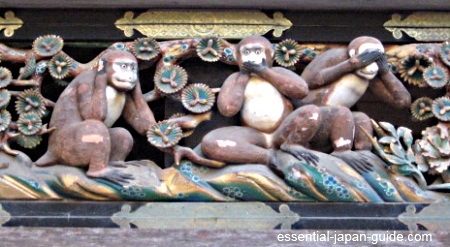 Other Toshogu attractions include the Sacred Stable that contains a white horse, Yakushi-do Hall, where you can hear the "roar of a dragon," the ornately carved Yomei-mon Gate, and Ieyasu's tomb, which includes the Sleeping Cat (Nemuri-Neko). Toshogu is part of the UNESCO World Heritage Site Shrines and Temples of Nikko.
Read more about Toshogu Shrine
Taiyuin-byo
The Taiyuin-byo Shrine is the mausoleum of Tokugawa Iemitsu, the son of Ieyasu and the second shogun of Japan. Taiyuin-byo is considerable smaller but is regarded by many to be the artistically superior of the two Tokugawa Mausoleums. Taiyuinbyo is included as one of the shrines and temples of Nikko registered as a UNESCO World Heritage Site.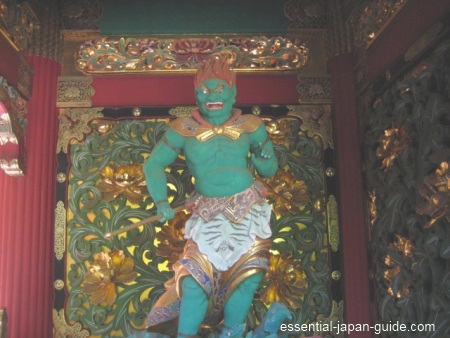 Futarasan Shrine
Futurasan Shrine, founded in 767, is dedicated to worship of the spirits of Nikko's three sacred mountains: Mt Taro, Mt. Nyoho, and Mt. Nantai. Important cultural artifacts here include two swords that are national treasures of Japan. Futarasan Shrine is included in the UNESCO World Heritage Shrines and Temples of Nikko.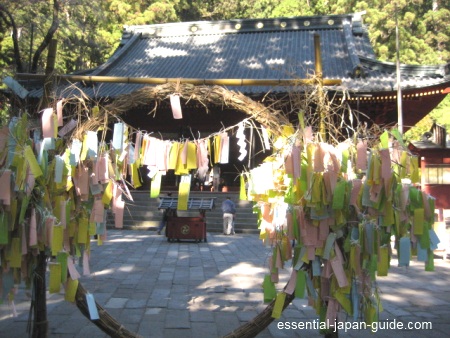 Rinno-ji Temple
Rinnoji Temple is actually a compound of 15 temples founded in 766 by the Buddhist monk Shoto. The temple is best known for Sanbutsudo, or Three-Buddha-Hall, which houses three gold-leaf statues of Amida Buddha, Senju Kannon (1000-arm Kannon), and Bato-Kannon (Horse-head Kannon). Rinno-ji also has a beautiful, tranquil Japanese garden. Rinnoji Temple is one of the collection of buildings that comprises the Shrines and Temples of Nikko UNESCO World Heritage Site.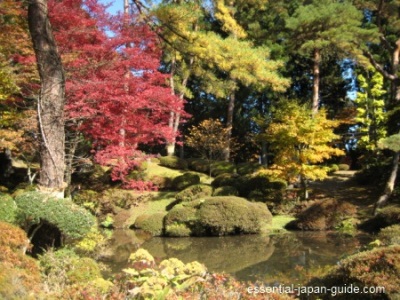 Rinno-ji Temple Combination Pass
Rinno-ji Temple offers a combination pass that includes admission to Sanbutsudo, Toshogu, Taiyuin-byo, and Futurasan Shrine. However, there is a separate admission (300 yen) to the Japanese garden. (See below for more discount passes offered by Tobu Railway).

Nikko Travel Guide – Nikko National Park
Nikko National Park is an expansive park rich in hiking trails, natural scenery, mountains, and waterfalls. Attractions here include Lake Chuzenji and Kegon Falls.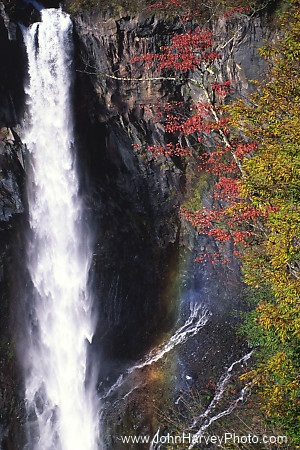 Lake Chuzenji
A beautiful scenic lake within Nikko National Park located at the base of Mt. Nantai. Kegon Falls, a another scenic Nikko attraction, is located nearby.
Kegon Falls
A towering waterfall stretching nearly 100 meters in height. This waterfall is particularly beautiful in autumn, when the surrounding leaves change colors.

Nikko Travel Guide – Nikko Hot Springs
Another Nikko attraction is the many onsen hot springs in and around the Nikko area. Two of the most popular Nikko onsen spots are Yumoto and Kinugawa.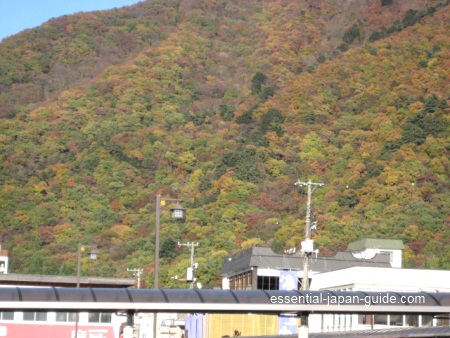 Yumoto Onsen
Yumoto is a hot spring village near Nikko with many onsen ryokan and hot springs resorts for overnight stay as well as onsen day trips.
Kinugawa Onsen
Kinugawa is another hot springs village near Nikko, and is also home to two unique theme parks: Tobu World Square, and Nikko Edo Mura (a re-creation of Tokyo during the Edo Period (1603 – 1868).

Nikko Travel Guide – Nikko Access
Access Nikko by Tobu Nikko Line
The easiest way to get to Nikko is via the Tobu Nikko Line. This train departs from Asakusa and takes about 1 hour and 50 minutes. Note that the Tobu Railway is separate from JR Railway, and therefore the JR Rail Pass cannot be used. However, Tobu Railway offers three discount passes for the attractions in and around the Nikko area:
Tobu Railway Nikko Discount Passes

World Heritage Pass: This pass provides round trip travel from Asakusa, local bus fair, discounts to the Kinugawa theme parks and other nearby attractions, and admission to Toshogu Shrine, Futarasan Shrine, and Rinnoji Temple. Adults: 3,600 yen; senior high students: 3,200 yen, junior high students: 3,000; younger children: 1,700 yen.
More Info on the World Heritage Pass

All Nikko Pass: This pass provides a single round trip between Asakusa and Shimo-imaichi, and then unlimited local use of buses and trains in the Nikko and Kinugawa areas, as well as discounts to a number of the local attractions. Adults: 4,400 yen; Children: 2,210.
More Info on the All Nikko Pass

Kinugawa Theme Park Pass: This pass provides a single round trip from Asakusa, a bus pass, and admission to the local theme parks.
More Info on the Kinugawa theme Park Pass
Access Nikko by JR Line (JR Rail Pass)
Although a longer and more pricey route, Nikko can be accessed by JR Rail line for those who want to take advantage of the JR Rail Pass. To access Nikko by JR, take the Tohoku Shinkansen from Tokyo Station or Ueno to Utsonomiya. From there, take the JR Nikko Line to Nikko. Approx. 2 hours.

Nikko Travel Guide – Nikko Tours

Nikko National Park Day Trip from Tokyo
Explore the scenic shrines and countryside of the Nikko National Park on a day trip from Tokyo. Nikko has been a center of Shinto and Buddhist mountain worship for centuries, and is famous for its shrines, mountain landscapes, lakes, waterfalls, hot springs, wild monkeys and hiking trails. More Info!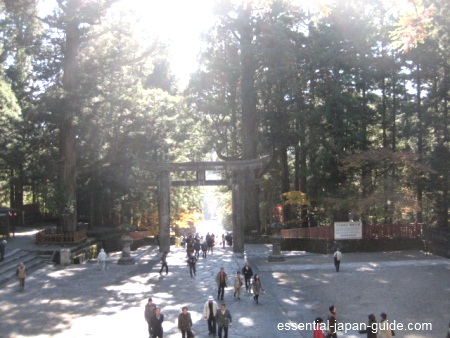 Nikko Travel Guide – Nikko Map
Hopefully this brief Nikko Travel Guide has inspired you to visit Nikko. With its culturally important shrines and temples, onsen hot springs, and breathtaking natural scenery, EJG highly recommends Nikko as a destination on your Japan travel itinerary!