Shibuya Tokyo
Shibuya Tokyo… Welcome to one of Japan's most exciting destinations. Shibuya is Japan's center of hip, trendy youth fashion, and an exciting spot for dining, shopping, entertainment, sightseeing, and people watching for both tourists and Tokyoites alike. Shibuya is famous for world-renown attractions like Hachiko Crossing, the world's business intersection, and Shibuya 109, Tokyo's trendiest department store.

Shibuya Attractions
Hachiko Crossing is the ideal spot from which to begin exploring Shibuya. Hachiko Crossing is located just outside Shibuya Station's Hachiko exit. From here, you can check out the famous statue dedicated to the dog from which the exit was named, absorb the panorama of neon and giant video screens that grace the sides of the nearby high-rise buildings, and experience the world's busiest intersection.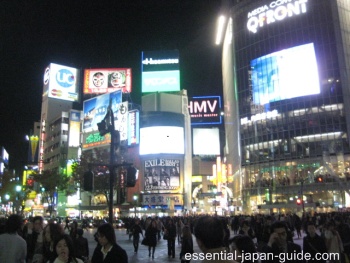 Shibuya 109 (ichi-maru-kyu)
This towering department store building, located just across the street from Hachiko Crossing, is packed with ultra-trendy clothing shops that cater to Japan's youth, and is the launching point for many of Japan's fashion trends, including kogyaru, ganguro, kawaii, and many more.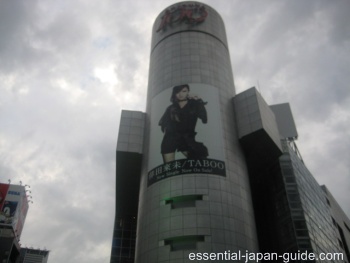 Due to the immense popularity of Shibuya 109, which caters primarily to women, a companion building, Shibuya 109-2, was opened nearby to house the latest and coolest in young men's fashions.
Shibuya Center Town (Center Gai)
Shibuya Center Gai is a narrow strip of cool shops, boutiques, restaurants, and cafes located directly across from Hachiko Crossing. Among the many shops worth checking out is the enormous HMV Records, where you can listen to and purchase several floors' worth of music of every genre.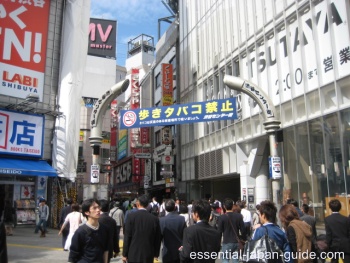 Koen-Dori is one of Shibuya's well-traveled streets where Parco, Seibu, and Marui City department stores, the Disney Store, Apple Store, and the Tobacco & Salt Museum are located. Koen-dori leads to Yoyogi Park adjacent to Harajuku.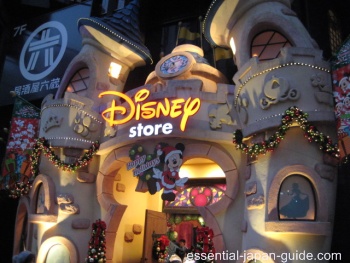 Located along Bunkamura-dori, this multi-media entertainment complex contains an art museum, concert hall, theatres, galleries, restaurants, and shops.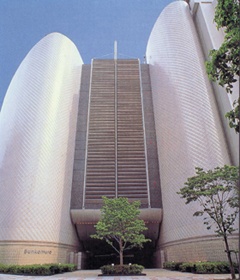 Located toward the rear of Parco, this is another narrow sliver of cool boutiques, restaurants, bars, and cafes. Check out the yummy Sweets Paradise, a popular all-you-can-eat cake buffet, located nearby.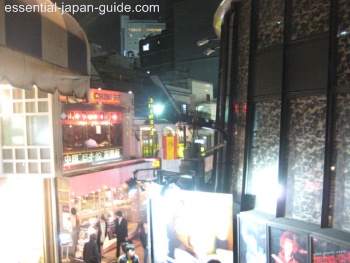 Love Hotel Hill (Dogenzaka)
Located off of Dogenzaka-dori, Love Hotel Hill is the center of Shibuya's nightlife scene. Here you'll find Japan's highest concentration of love hotels, surrounded by many trendy pubs, bars, and nightclubs like Club Asia, Womb, and Harlem.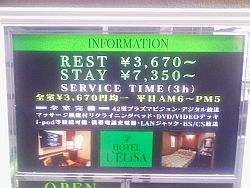 Shibuya has an amazing selection of clothing boutiques, electronics retailers, record shops, and department stores, including Parco, Seibu, Tokyo, Tokyu Hands, HMV Records, Tower Records, Sakura, Bic Camera, Marui, and many more.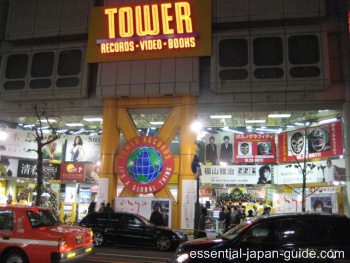 Shibuya Tokyo is one of Japan's most exciting travel destinations, and is definitely worth a visit. Just take care not to get swept away by the crowd!

EJG's Shibuya Insider Recommendations!

Sweets Paradise
Sweets Paradise is an all-you-can-eat dessert buffet located in the Spueinzaka area of Shibuya. Here you can gorge yourself on an incredible assortment of cakes and desserts, as well as pastas, salads, sandwhiches,curries, and rice dishes, all for the incredible low price of 1,480 yen, with a 90-minute time limit. This place is a favorite dining destination among Tokyo's youth.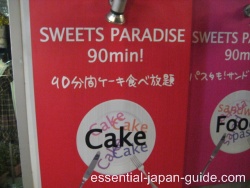 TGI Friday's
If you're burnt out on sushi and soba and find yourself craving a taste of good old Americana, TGI Friday's in Shibuya is there to serve you, Japanese style. Located behind Marui and across from Tower Records Just a few minutes' walk from Shibuya Station.

Coins Bar
This hidden gem of a bar offers a menu of drinks and food at the unheard of cheap price of around 300 yen per item! Not surprisingly, this place is popular among foreigners and Japanese alike, making it a great place to meet and socialize. 36-2 Noa Shibuya Building B1, Udagawa-cho Tokyo, Japan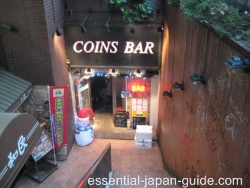 Shibuya Tokyo is one of Japan's most exciting travel destinations, and is definitely worth a visit. Just take care not to get swept away by the crowds!
Directions to Shibuya Tokyo
Shibuya Station can be accessed via the JR Yamanote Line, the Tokyu Toyoku Line, the Keiyo Inokashira Line, the Tokyo Den-en-toshi Line, and the Ginza Line.
Other Nearby Tokyo Attractions