Shinjuku Tokyo Guide
Shinjuku Tokyo is one of Japan's most exciting centers for business, shopping, and entertainment. Sightseeing attractions include the uber-busy Shinjuku Station, Shinjuku Gyoen Park, the Nishi-Shinjuku skyscraper district, and Kabukicho, Tokyo's red light district.

Shinjuku Station
If Shinjuku Stationis your first stop in Tokyo, you may be in for a shock. Used by over 3 million people each day, Shinjuku Station is not only Japan's busiest station, but the world's busiest as well! Cavernous in scale, Shinjuku Station stretches endlessly, serves 11 rail lines, has over 200 exits leading out in all directions of the city, and houses several major department stores.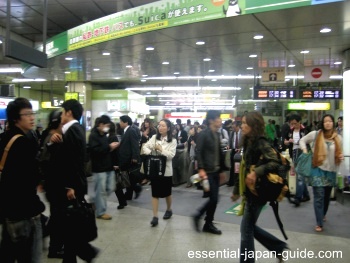 It is almost difficult to fathom just how massive and how crowded this station can be, particularly during rush hour, so here are a few quick tips for navigating your way around.

Shinjuku Station Tips

When visiting Shinjuku Station, consider avoiding morning and evening rush hour unless you specifically want to experience this form of chaos firsthand.

If you're with children or in a group, stay close together because you can easily become separated by the oncoming waves of pedestrian traffic.

When arriving at Shinjuku Station by train, use the yellow exit info guides on the train platform to orient yourself before you make your way into the station, as it can be difficult or even impossible to backtrack if you start out in the wrong direction.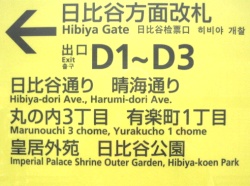 Though you can easily spend the better part of a day absorbed in the sights and activity in and around Shinjuku Station itself, eventually you'll want to head out and explore some of the many Shinjuku attractions. Below is just a small sampling.

Studio Alta
Studio Alta, located opposite the station's Central East Exit, is Shinjuku's most popular meeting place. There is always a mass of people waiting in front of the building's entrance below the gigantic video screen. A great people-watching spot.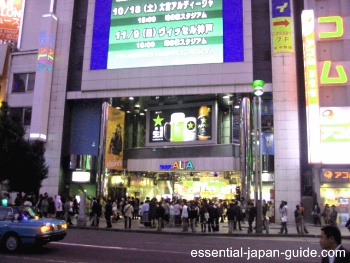 Kabukicho
Head down one of the side streets beyond Studio Alta and you'll arrive at the entrance to Kabukicho, Tokyo's redlight district where you can find rows of strip joints, hostess clubs, porn shops, pachinko parlors, and various other forms of alluring sleaze. Though certainly interesting to check out, it's definitely not the safest part of Shinjuku Tokyo, so be sure to exercise some caution when visiting this area.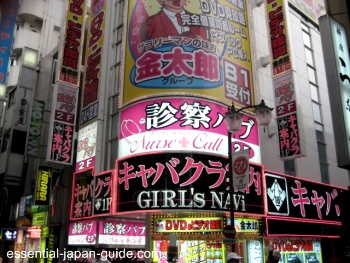 Nishi-Shinjuku Skyscraper District
Nishi-Shinjuku, located a few minutes west of Shinjuku Station, is Shinjuku Tokyo's skyscraper district. Here you will find some of Tokyo's tallest office buildings and hotels, including the Sumitomo building, Mitsui Building, KDDI Building, Nomura Building, and the Hotel Hyatt Tokyo Shinjuku.
The primary attraction here is the Tokyo Metropolitan Government Building, often called simply Tocho. At 243 meters this is the tallest building in Tokyo, and each of the building's twin towers has a free observation deck offering stunning views of the city. Our favorite time to view the city from Tocho is right around dusk, so you can get both daytime and nighttime views of the city.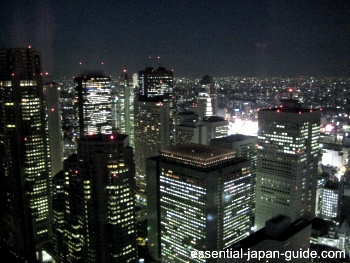 Shinjuku Central Park
Located behind the Tokyo Metropolitan Government Building is Shinjuku Central Park, a small but pleasant park that is a favorite lunchtime spot for nearby office workers. It is also the nighttime residence of many of the area's homeless population.
Shinjuku Gyoen Park
Shinjuku Gyoen is an expansive park in the middle of Shinjuku. The park offers a tranquil retreat from which to escape the nearby city bustle. The park contains a large open grassy field for playing and picnicking, walking paths, and European and Japanese style gardens. And with over 1,000 cherry trees, Shinjuku Gyoen is a favorite spring destination for cherry-blossom viewing (hanami). Admission to Shinjuku Gyoen is 200 yen.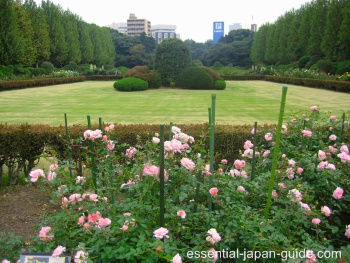 Shinjuku Shopping
Attached to the Shinjuku Station are a number of popular department stores and shopping developments, including Lumine, Odakyu, Keio, Takashimaya Times Square, and Shinjuku Southern Terrace (where you can have fun waiting in line for over an hour for Krispy Kreme Doughnuts!).
Located around the perimeter of the station are Japan's major electronics retailers Bic Camera, Yodobashi Camera, and Sakuraya.
A few blocks down the street from Studio Alta is Kinokuniya, a large bookstore with Tokyo's biggest selection of English titles. A great resource if all of the kanji is not sinking in and you're craving some reading material in your own language.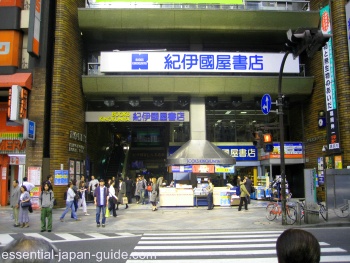 Shinjuku Tokyo, like many of city's best destinations, has its own unique vibe that you can only know by experiencing firsthand.
Directions to Shinjuku Tokyo
Shinjuku Station can be accessed via the JR Yamanote Line, the Chuo Main Line, the Chuo-Sobu Line, the Shonan-Shinjuku Line, the Saikyo Line, the Odakyu Odawara Line, the Keio Line, the Keio New Line, the Marunouchi Line, the Toei Shinjuku Line, and the Toei Oedo Line.
Other Nearby Tokyo Attractions