Tokyo Imperial Palace
Tokyo Imperial Palace is the main residence of Japan's Imperial Family. Surrounded by wide moats and towering stone walls and housing beautiful gardens, the Palace is one of Tokyo's most popular sightseeing destinations.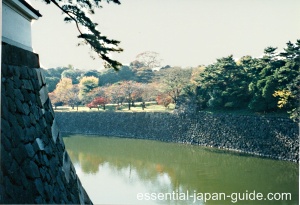 History of the Tokyo Imperial Palace
The Imperial Palace is located on the grounds of what was formerly Edo Castle, which was occupied by the Tokugawa Shogunate. After the Shogunate was overthrown during the Meiji Restoration, Edo Castle became the new residence of the Emperor and was renamed Imperial Castle. Most of the original buildings of the Imperial Castle were destroyed during WWII, but were rebuilt, and later renamed the Imperial Residence (Koukyo).

Features of the Tokyo Imperial Palace
Imperial Palace Plaza (Kokyogaien)
Kokyogaien is an expansive Imperial Palace plaza and park that leads to the main entrance of the Imperial Palace Grounds.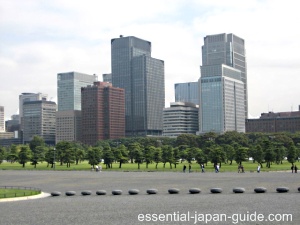 Imperial Palace Stone Walls
One of the most impressive features of the Imperial Palace are the massive stone walls that surround the Palace grounds.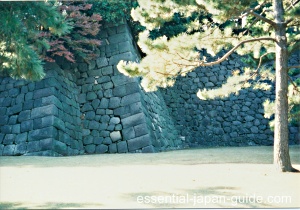 Nijubashi Bridge
Nijubashi (literally, "double bridge"), the bridge that leads to the main gate of the Palace, is so named because of the double semicircles that reflect in the water to give the impression of a pair of eyeglasses.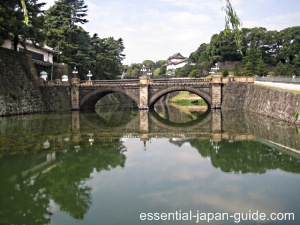 Imperial Palace East Garden
The East Garden is an area of the Imperial Palace grounds that is open to the public. Here you can see old buildings and remains of the former Edo Castle along with the castle walls that form a backdrop against the beautiful gardens. This garden is particularly beautiful in autumn when the leaves change their colors.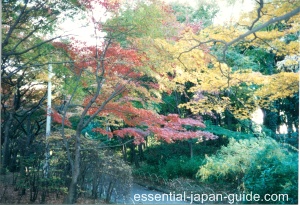 The East Garden is open free to the public year round from 9:00 until early evening year round. The Garden is closed Mondays, Fridays, during the New Year holiday (Dec. 28 to Jan. 3), and for some special occasions.

Imperial Palace Cherry Blossom Viewing
With 1,000 cherry trees, the Chidorigafuchi area of the Imperial Palace is an ideal spot from which to partake in the Japanese ritual of cherry blossom viewing (hanami) during the spring. Here you can rent a boat and enjoy the blossoms from the moat that surrounds the Palace, or simply stroll along the walking paths. Chidorigafuchi is located a 5 minute walk from the Tokyo Metro Kudanshita Station.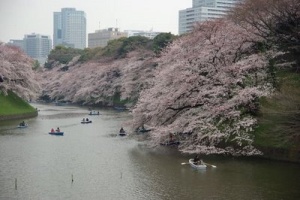 Visiting the Imperial Palace Grounds
Although the surrounding grounds and East Garden are open to the public, the inner Palace grounds are closed to the public except on January 2 (New Year's) and December 23 (the Emperor's birthday) of each year, when the Imperial Family appears to greet well-wishers en masse. In addition to these dates, guided tours in Japanese can be arranged by making arrangements through the Imperial Household Agency Website.

Full of history and surrounded by natural beauty in the heart of Tokyo, the Tokyo Imperial Palace is definitely worth a visit.
Directions to Imperial Palace
1 min. walk from Tokyo Metro Nijubashimae Station Exit #2, or a 10 min. walk from Tokyo Station.
Other Nearby Tokyo Attractions