Traditional Japanese Sweets and Snacks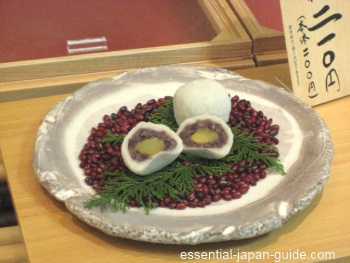 Wagashi – Traditional Japanese Sweets
Traditional Japanese sweets, called "wagashi" in Japanese, are as beautiful to look at as they are delicious to eat. Often created in the shape of leaves, flowers, and other articles of nature, wagashi represents Japan's four distinct changing seasons and appeal to all five of the human senses. Wagashi are commonly served as the Japanese tea ceremony sweets.

Wagashi is traditionally served as part of a Japanese tea ceremony to offset the somewhat bitter taste of the tea.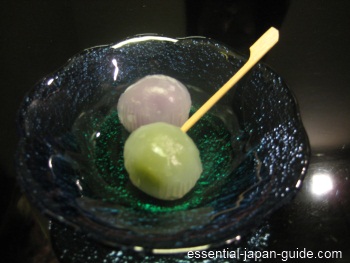 Most wagashi consist of a combination of some or all of the following ingredients:

Anko – Azuki beans cooked into a paste called "An," which is used as a sweetener.

Kanten – a fiber-rich gelatin used in jellied Wagashi sweets.

Wasambonto – A special type of Japanese sugar

Popular Types of Wagashi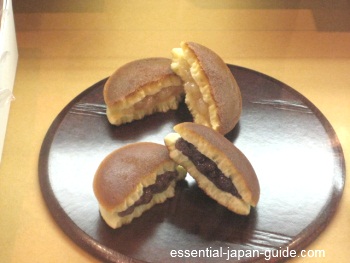 Manju -Steamed sweet buns filled with anko sweet bean paste

Yokan – A jellied sweet made of anko, kanten and sugar. A popular gift item.

Dango – Skewered balls of mochi topped with anko, kinako, or even chocolate

Monaka – An artfully designed rice wafer filled with anko

Anitsu – Jellied cubes filled with fruit

Taiyaki – A pancake like dough fried in the shape of a fish and filled with anko

Yatsuhashi – Thin sheets of sweet mochi shaped in triangles and filled with anko

Namagashi – Sweets formed in the shape of flowers

Anpan – A sweet bread filled with anko

Traditional Japanese Snacks
Senbei – Japanese Rice Crackers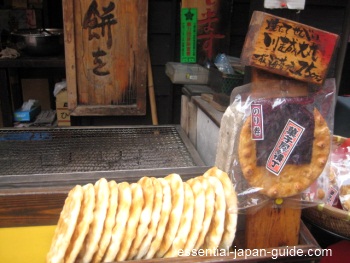 Senbei (or o-senbei) are traditional Japanese rice crackers. Senbei come in an amazing variety of shapes and sizes. Senbei are sometimes rolled or topped with a sheet of nori seaweed and seasoned with soy sauce.

Wagashi and Senbei Gifts
Gift giving is an important part of Japanese culture, and wagashi is one of the most common items given as gifts. If you are a guest of some local Japanese while in Japan, you can't go wrong giving them a gift of wagashi or senbei.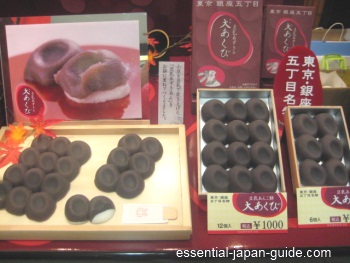 Where to Buy Traditional Japanese Sweets and Snacks
There are still many shops throughout Tokyo and other parts of Japan that make and sell wagashi, and these are fun to visit and shop in. Often you need look no further than your local major train station for a traditional Japanese sweets shop.
In Kyoto, one of our favorite places to browse and sample Japanese sweets is Yatsuhashi, located along the road leading to the Kiyomizudera temple. This shop lays out samples of every flavor in the store, and encourages visitors to sample them all!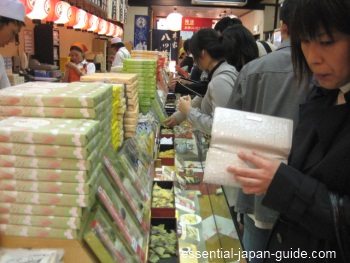 In Ginza, visit Kimuraya Bakery (located near the Apple store), a bakery that has been selling anpan for over 100 years.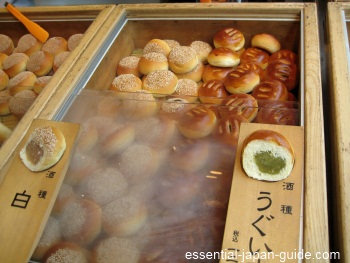 The easiest place to find wagashi is at the depachika (bottom food floor) of any major Japanese department store. Most depachika offer a huge selection of artfully prepared and packaged Japanese sweets.

For some, traditional Japanese sweets and snacks are an acquired taste, but while in Japan give them a try and let us know how you liked them!