Tsukiji Fish Market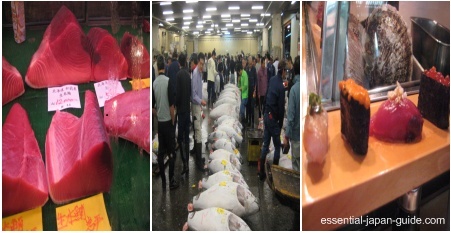 Tsukiji Fish Market in Tokyo is the world's largest and most vibrant wholesale fish market, where each day, many tons of maguro tuna and other fish and seafood are bought, sold, and auctioned. The Tokyo fish market is also home to some of the freshest, highest-quality sushi to be found anywhere on this planet, and is a must-visit during your Japan travels!

Visiting Tsukiji Fish Market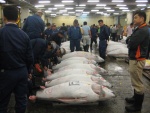 The action at Tsukiji begins bright and early, as chefs, restaurant owners and food vendors gather at first light to lay claim to the best catch of the day. In order to fully experience the frenzied bustle of Tsukiji, you'll want to be there as early as possible, as the maguro tuna auctions are in full swing at the crack of dawn.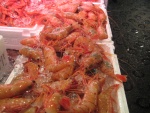 As you enter the inner market area from Tsukiji Shijo Station, you'll make your way past lines of trucks and boxes in the loading and unloading area. Then continue past the lines of vendors to the far end of the massive building until you reach the auction area. You'll see signs for the visitors' observation area, where you can gaze at the lines of gigantic frozen maguro and watch the trading take place.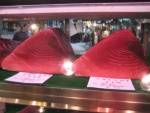 Be sure to stay within the designated visitor areas. Please bear in mind that Tsukiji Fish Market is first and foremost a place of business, so be respectful of the workers and vendors and make sure to give them all the space they need to perform their work.
Please also be very careful when walking around the marketplace, as the aisles are narrow and congested with many mini-trucks and forklifts weaving perilously through the aisles.

Eating Sushi at Tsukiji Fish Market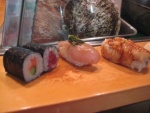 After you've had your fill of gazing at the auction activity and endless rows of exotic fish and seafood, as well as a trip around the outer market area, which consists of many restaurants and shops selling seafood, fresh food items, and knives and other kitchen supplies, no trip to Tsukiji Fish Market would be complete without a sushi breakfast consisting of the catch of the day. Everyone has their favorite shop, but all of the sushi shops lining the marketplace are guaranteed to offer ultra-fresh sushi.

Tsukiji Restaurant Review: Sushi-Dai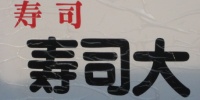 On our last trip to Tsukiji, we looked around until we found a line filled with what seemed to be the largest number of Japanese locals, which is always a good clue as to where to find the freshest of the fresh.
The restaurant they were waiting to get into, located right outside the market, was a little sushi bar called Sushi-Dai. After a server from the shop came out and told us there would be a 1 1/2 hour wait, we thought about bolting for a less-crowded shop, but since it was early and hunger had not quite set in, we decided what the heck and joined the back of the line. A couple of hours later, we were glad we did. Read our full review of Sushi-Dai….

How to Get to Tsukiji Market
Just outside Tsukiji Shijo Subway Station on the Oedo Line Exit A1; a 10-min. walk from Tsukiji Subway Station on the Hibiya Line Exit 1; a 10-min. walk from Higashi Ginza Subway Station.
Tsukiji Market Hours of Operation
Closed on Sundays, holidays, and occasionally on Wed.
Auctions take place from around 5:30am to 7:00am. The market closes at 1:00pm.
The market is busiest early in the morning, and many shops begin shutting down for the day around 11:00.
Tsukiji Market is a must-see during your Japan visit, but be sure to get there bright and early to catch all of the activity!