Yamashita Park (Yamashita Koen)
Yamashita Park is a pleasant stretch of Yokohama waterfront that looks out over Yokohama Bay and offers stunning romantic views of Yokohama Bay Bridge and the Yokohama skyline. Also home to the historic Hikawa Maru passenger ship, Yokohama Marine Tower, and the Yokohama Doll Museum, Yamashita Koen is a fun yet relaxing destination for families, dog owners, couples, and tourists alike.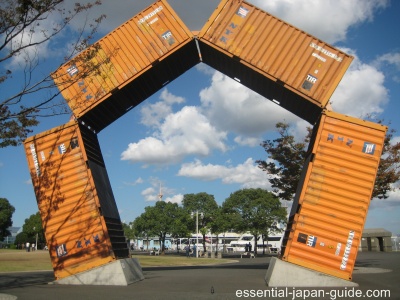 Yamashita Koen Views
Yamashita Koen offers fantastic views of Yokohama Bay Bridge and ship traffic in Yokohama Bay. In the evening, the park provides stunning views of the nearby Minato Mirai area, including the colorful Cosmo Clock 21 Ferris wheel. Each July, Yamashita Koen is the site of a spectacular fireworks display commemorating the opening of Yokohama City Port to foreign trade in 1859.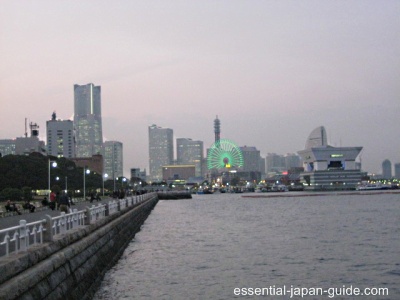 Yokohama Marine Tower
Actually located just across the street from the park, Yokohama Marine Tower is a colorful lattice tower that stands 106-meters tall, making it the world's tallest lighthouse! the Tower has a 100-meter high observation deck that offers 360-degree views of the city and Yokohama Bay, and even Mt. Fuji on clear days.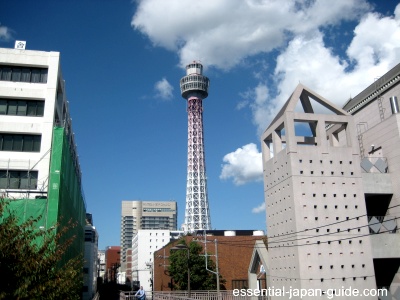 Yokohama Doll Museum
Located just beyond the entrance to Yamashita Koen, the Yokohama Doll Museum boasts a collection of over 13,000 dolls from Japan and 140 other countries.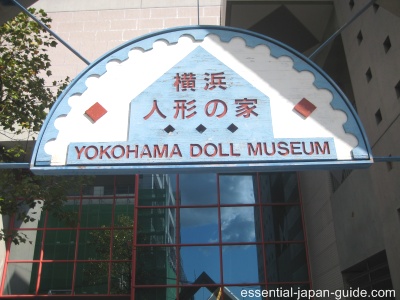 Hikawa Maru
Hikawa Maru, is a luxury trans-Pacific passenger liner that operated between 1930 and 1960 and served as a hospital ship during WWII. Today, it is permanently docked in Yamashita Koen and is open to the public. Read more about Hikawa Maru…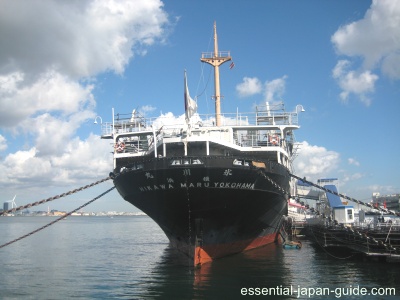 Friendship Gardens
Yokohama has a number of sister-city relationships with San Diego and other cities from around the world, and Yamashita Koen contains several gardens and statues donated by these cities.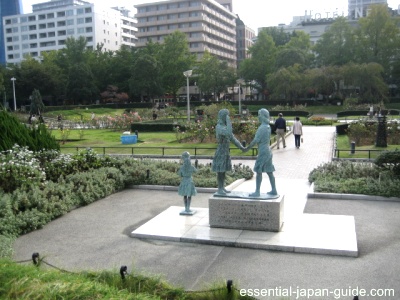 One of these is the "Guardian of Water" donated by the city of San Diego.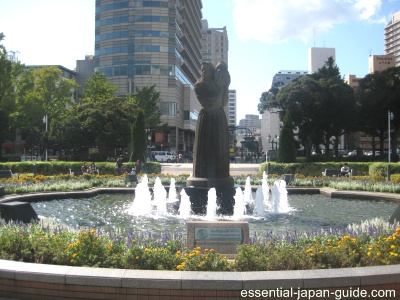 Street Performers
On the weekends, jugglers, magicians, musicians, and other street performers appear at the park to perform to the delight of visitors.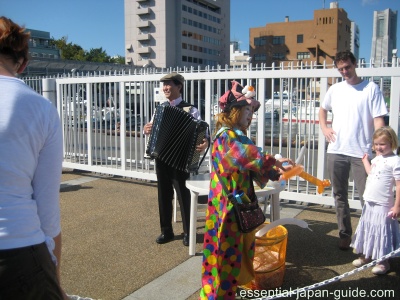 Yokohama Cruises and Sea Taxis
Yamashita Koen has a port for sea taxis to Minato Mirai 21 and Yokohama Station, as well as the Marine Rouge and Marine Shuttle cruise ships offering day and night cruises on Yokohama Bay.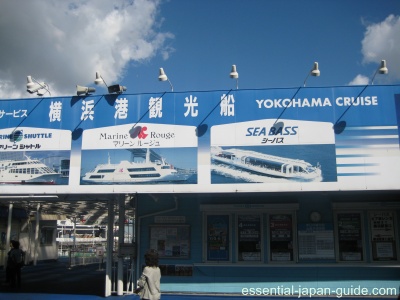 Promenade to Minato Mirai
At the far end of the park, there is a promenade that travels along the waterfront leading from Yamashita Koen to Akarenga Red Brick Warehouse and Minato Mirai, which you can follow all the way back to Sakuragicho Station. This promenade is actually just a section of the Kaiko Promenade that originates at Harbor View Park in the Yamate Area.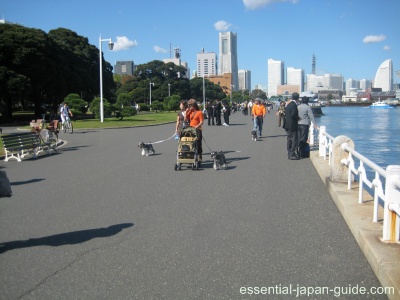 Access to Yamashita Park
Yamashita Park is just a short walk from Motomachi-Chukagai Station on the Minato Mirai Line. The entrance of the park is also close to Chinatown and
Motomachi
.