Yokohama Chinatown (Chukagai)
Yokohama Chinatown, also called Chukagai, is the largest Chinatown in Asia, and one of the largest in the world. Located just a couple blocks from Motomachi, Chukagai consists of several blocks packed full of authentic Chinese restaurants, food stalls, shops, and temples.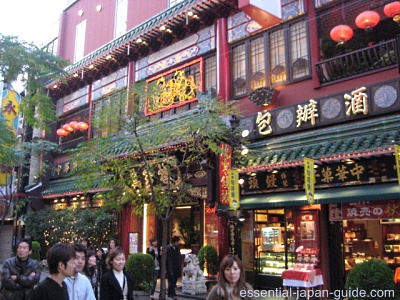 History of Yokohama Chukagai
After Yokohama became the center foreign trade when the port of Yokohama opened in 1859, Chinese immigrants poured into Japan and settled down in the area now known as Chukagai. Today, the Chinese population has decreased over the years, and the area has become primarily a commercial district with the main attraction being the over 200 restaurants serving every conceivable variety of authentic Chinese cuisine.

Features of Chukagai
Here are just a few things to look out for during your visit to Chukagai.
The entrances to Yokohama Chinatown are distinguished by colorful, ornate gates.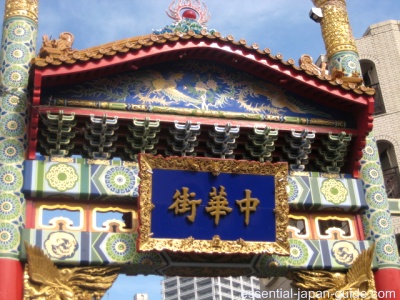 Chinese Temple (Yokohama Chukagai Kanteibyo)
Kanteibyo is an ornate Chinese temple that enshrines Guan Yu, the God of Business and Prosperity.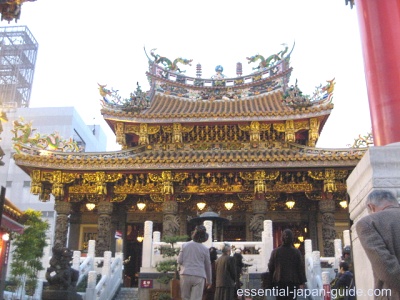 Food stalls selling piping hot steamed buns and other goodies can be found all along the narrow streets of Chukagai.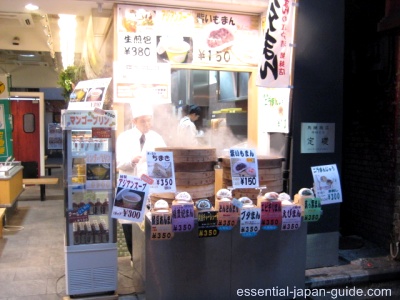 The main attraction in Chukagai are the over 200 Chinese restaurants offering such delicacies as ramen, Peking duck, dim sum, congee, and every other imaginable kind of Chinese cuisine. There are so many Chinese restaurants in Chukagai that choosing one can be overwhelming.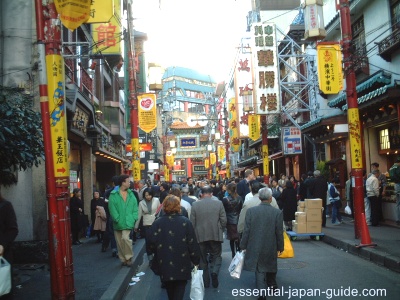 Fortunately, most of the restaurants have replicated models of the dishes they serve along with prices displayed outside the shop, so just look for one that looks good and is in your price range.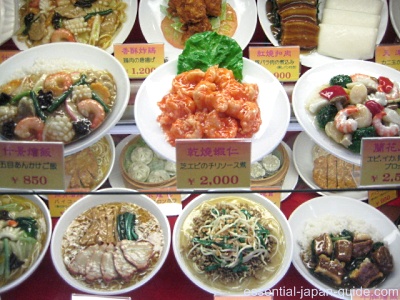 Saikoh Chinese Restaurant
One of our favorite Chukagai restaurants is Saikoh, which serves a full menu of fantastic dim sum and other Chinese delicacies. Saikoh's signature disk are these shrimp rolls. Crispy on the outside, bursting with high-quality shrimp on the outside, these little rolls explode with taste inside your mouth! Comes with a tasty sweet mayonnaise dipping sauce.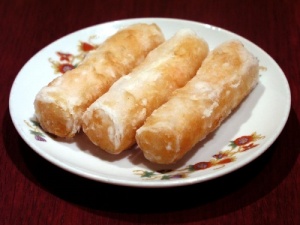 Saikoh's Web site is in Japanese only, but you may be able to orient yourself by looking at the map on this page. The bold "M" on the map denotes the Motomachi-Chukagai Station on the Minato Mirai Line. From there it's just a three minute walk. Look for the "Saikoh Group" icon at the bottom of the page to help you identify the Chinese characters on the restaurant's sign.
Access to Yokohama Chinatown
Chukagai is a 3-minute walk from Motomachi-Chukagai Station on the Minato Mirai Line. Alternatively, a 10-minute walk from Ishikawa-cho station on the JR Negishi Line.