Christmas in Japan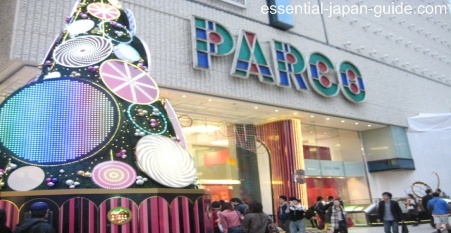 Christmas in Japan is celebrated not with family get-togethers, singing of carols, midnight mass, and turkey dinners, but in a uniquely Japanese way that includes "Christmas Cake," Kentucky Fried Chicken, and romantic evenings in hotels.

Overview of Christmas in Japan
In Japan, Christmas is not an official Japanese holiday, which means that no one in Japan gets an extra day off for this day. Unlike Christmas in the West, the Christmas is not typically celebrated as an occassion for a family get-together, although parents do usually give presents to their young children. Rather, it has evolved into something of a quasi-holiday for lovers.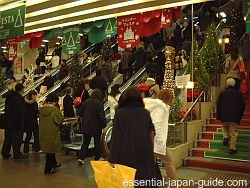 One way that Christmas in Japan is very much like Christmas in the West, however, is that retailers promote it like crazy as an occassion for shopping. As such, during the month of December (and even as early as November), you'll find Tokyo and other urban areas of Japan decked out with plenty of Christmas lights and holiday decorations.
Many of the major department stores set up huge trees and light displays in an effort to create the feeling of Christmas. In areas like Omotesando in Tokyo, you'll also find the streets lined with Christmas lights.

Unique Japanese Christmas Customs
Instead of a family holiday, Christmas in Japan has evolved into a romantic holiday for lovers, with several unique elements not found in the West.
Christmas Cake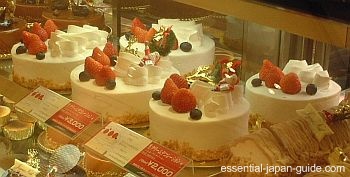 Japanese celebrate Christmas not with homemade cookies and pumpkin pie, but with Christmas cake. A typical Christmas cake is a white sponge cake with white frosting, strawberries, and some Christmas ornamation. Department stores and bakeries do lucrative business selling this essential item around Christmas time.
Kentucky Fried Chicken Christmas Dinner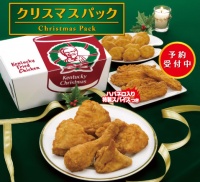 In Japan, the quinessential Christmas dinner is not a home-cooked roasted turkey, but a Kentucky Fried Chicken Christmas dinner prepared by the Colonal himself.
Through shrewed advertising over the years, KFC has succeeded in convincing many Japanese that chicken, not turkey, is the traditional Christmas dinner, to the extent that the food chain takes reservations many weeks in advance for its special chicken Christmas Pack and other items on its special Christmas menu.

Christmas Eve in Japan
Since Christmas day in Japan is not an official holiday and most people are working during the day, Christmas Eve is where the real Japanese Christmas celebration takes place. Christmas Eve in Japan has become a romantic occassion on a par with Valentine's Day in the West. No Japanese woman or man wants to spend Christmas Eve alone.
A typical Christmas Eve date in Japan begins with a dinner at a fancy restaurant, for which reservations are booked months in advance. This is often followed by an evening stroll to enjoy outdoor Christmas lighting and decorations, and culminates at a love hotel or other fancy hotel (also booked far in advance), where romantic affection and presents are exchanged.

Similarities between Japanese New Year and Christmas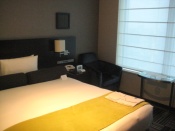 While as we can see the celebration of Christmas in Japan differs significantly from that in the West, Japanese New Year is similar to Christmasas celebrated in the West in that it is Japan's main holiday season, and is the time when, like in the West, most of Japan goes on vacation and families gather together to celebrate. Learn more about Japanese New Year…