Harajuku Tokyo
Harajuku Tokyo is known worldwide as the center of Japanese street fashion. On Sunday mornings, Japanese youth gather to show off Gothic Lolita, cosplay, rockabilly, visual-kei, and other creative fashions. Many of the world's top fashion designers make regular pilgrimages to Harajuku in search of new fashion inspiration.

Sunday Harajuku Fashion Show
Sunday morning in Harajuku Tokyo is when the impromptu fashion show begins just outside the JR Harajuku Station exit. Japanese and tourists alike flock here to check out the Gothic Lolita, Hime princess, cosplay, visual kei, kogyaru, and who knows what other fashions and styles?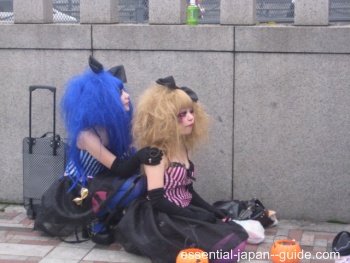 Harajuku Sunday provides some great photo opportunities. Most of the participants in the fashion gathering love having their pictures taken, but be a polite gaijin and be sure to ask first!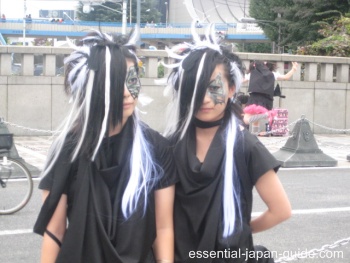 Yoyogi Park Street Live Performances
A few steps away from the street fashion excitement is the entrance to Yoyogi Park. Here, you can watch the cool rockabillies show off their slick hair styles and dance moves.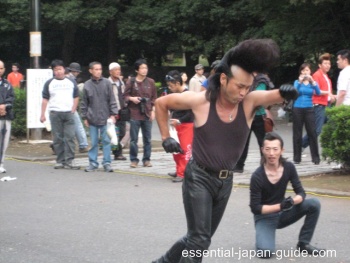 Just beyond the rockabilly fun, proceed to the outer perimeter of the park, where cool up-and-coming bands of every genre, including visual kei, rock, pop, and jazz, perform in hope of making it big.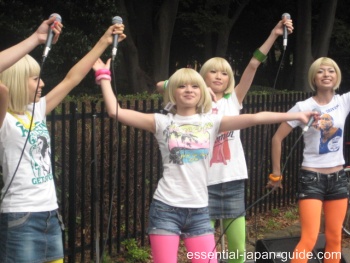 Another cool Sunday Yoyogi Park attraction is a massive flea market where all kinds of used clothing and other items are offered for sale.

Meiji Jingu Shrine
Sandwiched in between the festive atmosphere of the street fashion fun outside the Harajuku Station exit and the musical extravaganza at Yoyogi Park is the tranquil entrance to Meiji Jingu Shrine, which provides the perfect escape back to traditional Japan if you need a break from all the over-the-top trendiness.

Takeshita Doori
Takeshita Doori, located just across the street from Harajuku Station, is a cool strip of Harajuku filled with fashionable clothing boutiques, food stands, and ample people watching opportunities.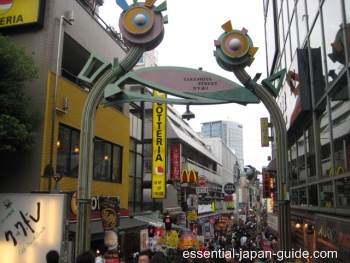 Be sure to try the French-style crepes at one of the numerous crepe stands along the street.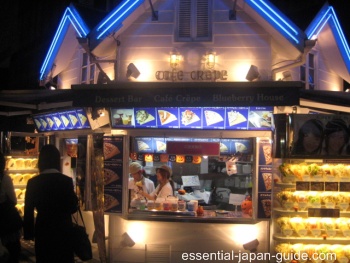 Omotesando
Omotesando is another popular section of Tokyo within easy walking distance of Harajuku. In contrast to the youthful counter-culture vibe of Harajuku, Omotesando is posh, upscale, and adult, and definitely worth checking out.