Japanese Capsule Hotel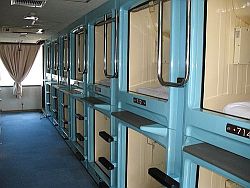 For a truly adventurous and truly unique Japan lodging experience, why not spend a night in a Japanese capsule hotel?

Overview of Capsule Hotels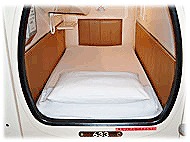 Capsule hotels were originally created to provide Japanese businessmen a no-frills, inexpensive place to crash when working or drinking with colleagues late into the night after the last train and no means of getting home. As its name suggests, rooms in these hotels are actually capsules, stacked two or three rows high, that are just big enough for a grown man or woman to squeeze into vertically.
Features of Capsule Hotels
Within each capsule, one will typically find a mattress and pillow and blanket for sleeping, as well as a TV, radio alarm clock, lighting controls, and a shutter to close once you get in.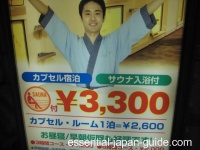 In these hotels, capsules are separated by gender, as are the communal bathing facilities. Some of facilities are quite luxurious, on a par with offerings you can find at a nice hot springs resort. Capsule hotels typically provide robes, razors, and other toiletries. While food is normally not served, vending machines are available, and bento (prepared meals) and other food can be brought in from the outside.
Room rates for capsule hotels are typically 3,000 to 4,000 yen per night.
If you're keen on trying out this uniquely Japanese lodging experience, one tourist-friendly capsule hotel worth checking out is the Capsule Inn Akihabara, located in Tokyo's Akihabaradistrict, a popular district for fans of electronics, anime, and manga.