Okonomiyaki Japanese Pancake
Okonomiyaki Japanese pancake is a popular food item in Japan at restaurants, festivals and home parties. Translated literally as "cook what/as you like," okonomiyaki is especially fun to eat at restaurants and parties, where participants gather around a flat grill, mix up the ingredients, and have fun cooking the pancakes themselves.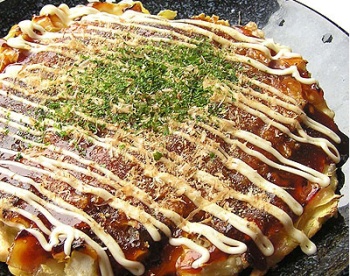 The ingredients used to create okonomiyaki vary by region. The batter consists of flower, eggs, water, grated yam, and cabbage. Fillings include pork, assorted seafood, vegetables, kimchi, cheese, mochi, and yakisoba. Toppings and seasonings include nori seafood flakes, katsuobushi (fish flakes), pickled ginger, mayonnaise, and a Worcestershire-like sauce.

Regional Variations of Okonomiyaki
Okonomiyaki ingredients and style of preparation vary by region. The two most popular variations of okonomiyaki are Osaka-style okonomiyaki and Hiroshima-style okonomiyaki.
Osaka-style Okonomiyaki:
Osaka-style okonomiyaki is the most common type of okonomiyaki found throughout most of Japan. For Osaka okonomiyaki, cabbage is mixed into the batter. The okonomiyaki is grilled on both sides just like a pancake, and is topped with a thick, sweet soy-flavored Worcestershire sauce. Osaka-style okonomiyaki is commonly grilled by diners self-serve style.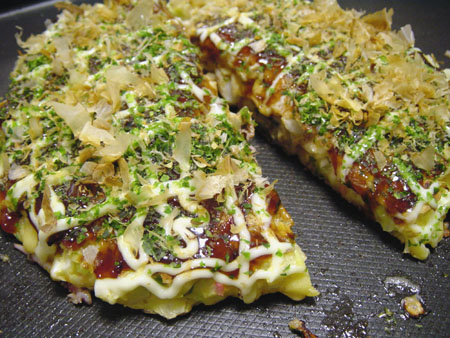 Hiroshima-style Okonomiyaki:
Hiroshima-style okonomiyaki is prepared a bit differently than Osaka-style okonomiyaki. For Hiroshima okonomiyaki, rather than mixing all the ingredients together, cabbage, pork, and other ingredients are piled in layers on top of the batter. Yakisoba or udon noodles and fried egg are also used as ingredients. As it is somewhat more involved to make, Hiroshima-style okonomiyaki is commonly prepared by vendors rather than the customers.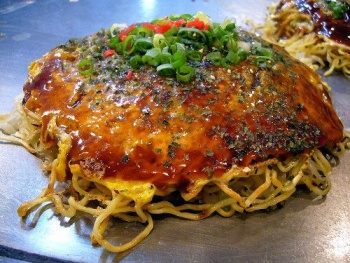 Eating Okonomiyaki at Restaurants and Parties
Okonomiyaki is fun to eat at a restaurant. At an okonomiyaki restaurant, you sit around a table with a flat grill (teppan) in the middle and select ingredients from a menu. The ingredients are brought to the table in a cup filled with the batter and fillings. Stir up the mix, spread it out and cook on the grill in the shape of a pancake, season to taste, portion with the metal spatula, and then chow down!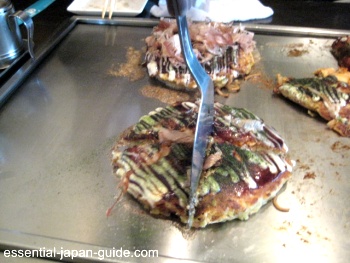 Given the communal and participatory nature of the dish, okonomiyaki is also popular in Japan as a home party dish. Just like at a restaurant, participants mix up the ingredients, gather around a table grill, and enjoy cooking, conversing, drinking, and of course, eating!

Okonomiyaki at Festivals
Okonomiyaki Japanese pancakes are also a popular dish found at Japanese festivals. Unlike at restaurants or parties, at festivals okonomiyaki is prepared at food stalls by the vendors, so while you lose a little bit of the fun of making it yourself, you still get to enjoy all the great flavor of the dish!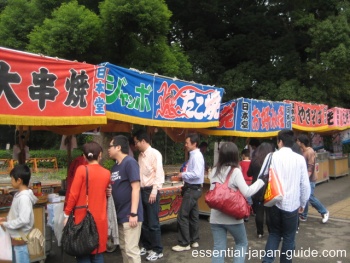 Where to Eat Okonomiyaki
Okonomiyaki restaurants can be found all over Japan. One of our favorite spots in Tokyo for enjoying this dish is Chibo Okonomiyaki at Yebisu Garden Place in Ebisu. This restaurant offers not only tasty, affordable okonomiyaki, but a breathtaking view of the Tokyo skyline as well!
Check out our review of Chibo Okonomiyaki in Ebisu, Tokyo!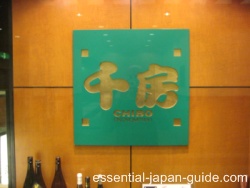 While in Japan, we definitely recommend you give an Okonomiyaki Japanese Pancake a try!