Cool Japan Stuff
This section of our website is reserved simply for uniquely cool Japan stuff. If it's cool, if it's Japan or Japanese, and if it's stuff, then you'll find it right here! You know the kind of stuff we're talking about. Japanese vending machines. Japanese toilets. Japanese convenience stores. Japanese depachika. Cool Stuff like that. check it out!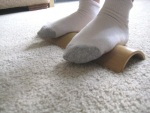 Japanese Foot Massagers
The fumitake Japanese bamboo foot massage tool has been used in Japan for centuries to provide soothing relief for tired, sore feet. Learn more about this low-tech yet highly effective foot massager!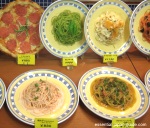 Japanese Food Displays can be found in many restaurants in Japan. These incredibly realistic food models function to give a visual idea of what kinds of foods the restaurant serves while at the same time appealing to the senses of would-be diners in order to entice them inside. These plastic food models are often a saving grace for foreign diners who do not speak Japanese.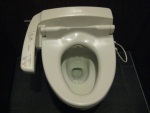 Japanese Toilets are famous for their high-tech functionality, heated toilet seats, and even those fake flushing noise buttons installed in women's restrooms in Japan. The king of toilets in Japan is Toto, the company that brings warmth and comfort to Japanese behinds.
Japanese Vending Machines
Few are the gaijin who visit Japan and do not come away impressed by vending machines in Japan. It's not so much the machines themselves but the variety of things sold in them. Beverages by the hundreds. Beer. Hot tea. Corn soup. And yes, even panties and porn.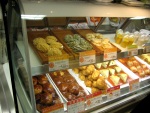 Depachika are Japan's department store food floors which boast a mind-boggling array of foods. Depachika are located are located on the bottom floor of Japanese department stores. The word "depachika" is a combination of the Japanese word "depaato," which is Japanese for department store, and "chika," which is Japanese for basement."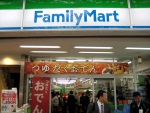 Japanese Convenience Stores are one of the truly great Japanese institutions. The operative word is convenient. Called "konbini" in Japanese, these convenience stores are located all over Japan and sell a stunning array of food, drinks, snacks, bento, and every other item that you didn't know you need until you find it at the konbini.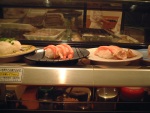 Kaiten sushi (actually pronounced kaiten-zushi in Japanese) are special sushi restaurants where plates of sushi are brought around to diners on a revolving conveyer belt. Kaiten- zushi restaurants are where you can fine some of Japan's most inexpensive yet still high-quality sushi, and have tons of fun while you eat!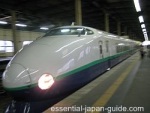 Shinkansen Bullet Trains are the pinnacle of Japan rail travel. Renown worldwide for their sleek, streamlined look, high speeds and ultra-smooth rides, the Shinkansen is a comfortable, speedy and very cool means of traveling about Japan.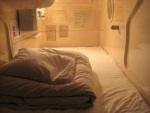 Japanese Capsule Hotels were originally created to provide Japanese businessmen a no-frills, inexpensive place to crash when working or drinking with colleagues late into the night after the last train and no means of getting home, but in recent years, spending a night in these crazily cramped but cool lodgings have become a must-experience among foreign travelers to Japan!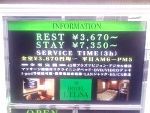 Japanese Love Hotels are a special kind of hotel that provides a comfortable, erotic environment, sometimes with bizarre, kinky, and downright outrageous themes, for couples to enjoy discreet, intimate time together.

Manga (Internet) Cafes are the perfect place for web surfing, devouring Japanese comics, and even lodging on the cheap after a late night out when you've missed the last train home.