Discover Japanese Culture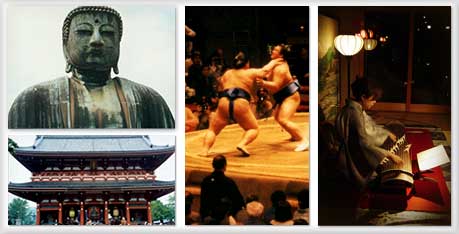 Japanese Culture…One of the coolest aspects of traveling to Japan is discovering the many ways in which Japan's traditional and modern cultures appear to mesh together seamlessly.
Daily life scenes like an ultra-modern high-rise building right next to an ancient temple, a group of young girls clad in colorful yukata summer kimono texting messages on a train as they head to a fireworks display, or a hard-core punk rocker speaking in the polite, formal "keigo" style of Japanese while being interviewed on TV somehow just seem to make sense in Japan.
In the EJG Japanese Culture section, you'll find a wealth of information on Japanese culture and customs, as well as Japan's unique holidays, festivals, fashions, events, and more!

Japanese Customs
Japan has many customs that are quite a departure from the way things are done in the West. Learn about Japan's customs of eating, bathing, bowing, conducting business, weddings, funerals, and more. Learn More…

Bowing in Japan


Removing Shoes in Japan


Japanese Gift Giving


Japanese Bathing


Japanese New Year Customs

Japanese Etiquette, Manners, and Mannerisms
Japanese culture is well known for its emphasis on proper manners and etiquette. Impress your Japanese hosts with your knowledge and mastery (or at least well-appreciated attempt!) of proper Japanese etiquette and familiarity with Japanese mannerisms. Learn More…

Japanese Eating Customs


Japanese Business Etiquette


Japanese Manners and Mannerisms

Cool Japan Stuff
This section of our website is reserved simply for uniquely cool Japan stuff. If it's cool, if it's Japan or Japanese, and if it's stuff, then you'll find it right here! Learn More…

Japanese Vending Machines


Japanese Depachika


Japanese Convenience Stores


Kaiten Sushi

Facts About Japan
Learn some some basic fast facts of Japan, find links to more detailed facts about Japan, and even check out some amusing fun facts about Japan. Learn More…

Earthquakes in Japan


Islands of Japan


Geography of Japan


Climate of Japan


Weather in Japan


Population of Japan

Japanese Holidays
Did you know that both Valentine's Day and Christmas are celebrated in Japan, but with some unique Japanese twists?
Learn more about these and other traditional Japanese holidays…

Japanese New Year


Christmas in Japan


Golden Week

Japanese Festivals and Events
From cherry blossoms in the spring, fireworks in the summer, and ice sculptures in the winter, there is a full calendar of Japanese festivals and eventsto be enjoyed year round.

Kawagoe Matsuri


Cherry Blossom Festivals


Firework Displays


Sapporo Snow Festival


Hakata Gion Yamakas Festival


Jidai Matsuri


Aoi Matsuri


Chichibu Night Festival


Takayama Festival


Tokyo Auto Show


Tokyo Game Show

Japan Fashion Trends
Harajuku, kogyaru, gothic lolita, cosplay and hime. Stay on top of the ever-changing but always cutting-edge Japanese fashion trends.

Harajuku Fashion


Shibuya Fashion


Ginza Fashion


Hime Fashion


Kawaii Fashion


Mori Fashion


Kogyaru Fashion


Amura Fashion


Kimono Fashion


Costume Play (Cosplay) Fashion

Japanese Pop Culture
Japanese traditional culture is kimono, kabuki, temples, and tea. Japanese pop culture is video games, anime, manga, gravure idols, and pop music. In recent years, the popularity of Japanese pop culturehas exploded worldwide. Find out what all of the hype is about!

Japanese Video Games


Japanese Manga


Japanese Anime


Japanese Idols


Japanese Pop Music

Japanese Trends
Check out Japan's latest trendsin games, gadgets, TV shows, electronics, autos, foods, fashions, and more.

Japanese Electronics


Japanese Gadgets


Japanese TV


Japanese Food Trends


Japanese Fashion Trends
Keep checking back as we continue to update our Japanese Culture section with more and more great cultural info!

Return from Japanese Culture to the Essential Japan Guide Home