Narita Airport Guide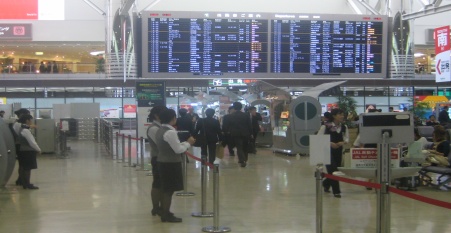 Narita Airport is one of Japan's three major international airports, and is the most common port of entry when flying into Japan from abroad.
Narita International Airport, as it is officially known, is located in the city of Narita in Chiba Prefecture, about 60 kilometers outside of Tokyo. This is where you'll enter the country when your initial destination is the greater Tokyo region or elsewhere in the Kanto area.

Arrival at Narita International Airport
Your plane finally touches down on Japanese soil after a long, grueling flight. Your Japan adventure has begun! Well, not so fast. You first need to complete entry procedures and clear Japan customs. Here's what you'll face.
Narita Immigration Procedures
During your flight, you will have received a customs declaration form and an embarkation and disembarkation card. It's a long flight, so you'll have plenty of time to fill these out on the plane.
Upon exiting the plane, just follow the crowd toward the passport control area. If you arrived in Terminal 2 of Narita Airport, you'll take a long corridor with a moving walkway to an area that will either lead you to other gates if you are transferring, or a stairwell that leads to a shuttle that will take you to passport control. Look for the signs in English that say "Arrivals." There will also by English-speaking staff nearby who will help you if you are unsure where to go.
Go up the flight of stairs that leads to the shuttle. Take the short shuttle ride to the passport control area. Once there, if you are a foreign passport holder you will be herded into a line to the left. Have your passport and embarkation card ready.
Once at the immigration desk, the immigration officer will ask you the purpose of your stay. Be sure to provide an answer that matches your visa status. You will then be asked to place your index fingers on a little machine and stare at a mirror for fingerprinting and an ID photo.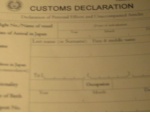 Once you have cleared passport control, take the escalator or stairs down to the baggage and customs area. Claim your baggage (carts are available if needed) and head over to one of the customs lines. Present your customs declaration form to the officer, who may inquire as to your purpose in Japan, what kind of luggage you are carrying, and in some cases, ask to inspect your baggage. Be honest, cooperate, and you should not have any problems.
Narita Travel Services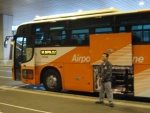 Once you have cleared customs, you'll go through a set of doors and find yourself in the main Arrival Lobby of Narita Airport. Have a look around. Opposite the doors you just came out of you should see some service counters where you can purchase limousine bus tickets (most counters provide bus destinations, times and fares in English). Next to these counters you'll also see the exit leading to the bus boarding areas.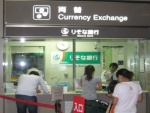 Next to either side of the doors you exited you should see some currency exchange counters, and just down the hall, you'll find some ATM machines (including CitiBank) and public telephones.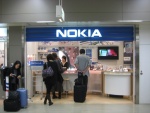 Also in the same general area you'll see signs above an escalator leading down to the JR rail lines. At the bottom of this escalator you'll see a few cell phone rental counters, a JR ticket window, and a 7-11 (Seven Bank) ATM. Learn more about cell phone rental in Japan and banking in Japan.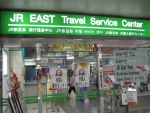 You'll also see a JR Travel Center, where English-speaking staff will help you exchange your JR Rail Pass exchange order if you want to start using it right away or schedule a date to begin use. You can also purchase the discount Suica N'EX combination package that provides you with with a discount ticket for the the Narita Express and a Suica prepaid card.

Departure from Narita Airport
Baggage Check-in and Ticketing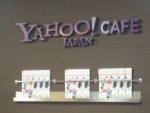 After you have arrived at the terminal of your departing flight, proceed to your airline's baggage check-in and ticketing counter. Once you have taken care of your baggage and ticket, if you still have time to kill you can spend time at the many convenient cafes, restaurants, and shops available in the departure lobby before going through passport control. In Terminal 2 of Narita Airport, there is a Starbucks on the 3rd floor with rows of Internet booths costing 100 yen per ten minutes, as well as many other Japanese and Western restaurants and other shops.
Narita Duty-Free Shopping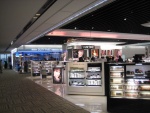 Once the time of your flight draws near, go through passport control. In Terminal 2, after clearing passport control, you'll find yourself in an area called Narita 5th Avenue that features a dazzling array of the world's leading fashion boutiques, duty-free stores, and other shops. There is also a Yahoo! Cafe that provides free use of Internet-enabled computer terminals.
Terminal 1 features narita nakamise, what Narita Airport claims to be the "largest airport duty-free brand boutique mall in Japan.
Each of these duty-free malls feature brand boutiques including world- famous brands like BVLGARI, Burberry, Gucci, Hermes, Coach, Tiffany, and more.

Access to/from Narita Airport
There are several convenient options for getting to and from Narita Airport.
Limousine Bus
Limousine bus is a convenient means of getting to specific destinations in Tokyo and elsewhere in Japan. Check the bus service counters in the Arrival Lobby for times, destinations, and fares.
(Times and fares vary depending upon the destination)
JR Train Lines

JR Narita Express is a fast and comfortable means of getting to central Tokyo. The fare is discounted when using the convenient Suica-N'EX ticket package.
(About 60 min. to Tokyo; around 3,000 yen)

JR Sobu Line is a rapid service that is much less expensive than the Narita Express (about 1,300 yen) but takes a longer (about 90 minutes) and has no reserved seats. As such, the train has more stops and tends to become more crowded, which can be burdensome if you have lots of luggage.
(About 90 min. to Tokyo; around 1,300 yen)
Keisei Train Lines

The Keisei Skyliner is a comfortable, reserved train that takes you as far as Ueno Station in Tokyo.
(About 60 min. to Ueno Station; around 2,000 yen)

The Keisei Limited Express is the cheapest train ride into Tokyo. Like the JR Sobu Line, it is an unreserved commuter train with lots of stops and tends to fill up during busy commuting hours.
(About 75 min. to Ueno Station; around 1,000 yen).
Taxi
While travel by taxi from Narita to Tokyo is an option, it is not the most economical one, as the airport is located 60 kilometers outside of Tokyo.
(About 60 min. or more to Tokyo, depending upon traffic; 20,000 yen or more depending on distance)
External Links
For more info, see the Narita International Airport Official Website.