How to Call Japan Long Distance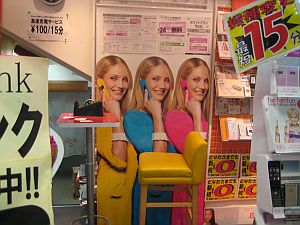 It is easy to call Japan long distance. For example, when calling Japan from the U.S., simply dial:
011 (U.S. direct dial prefix) + 81 (Japan's country code) + the number
In order to dial a long distance call from Japan, use the appropriate direct dial prefix:
001 (KDD)
010 (MYLINE/MYLINE PLUS)
0061 (Cable & Wireless IDC)
0041 (Japan Telecom)

+ (code of country dialing to) + number
See this international dialing codes page for the dial codes of the country you are calling to or from.
Cheap calls to Japan
When placing long distance calls to Japan, there are a number of options for cheap long distance calls. For starters, look into 10-10 Dial and similar calling plans.
Another great option for cheap calls to Japan is Skype. Using Skype, you can actually call Japan for free if you're calling from one computer to another with Skype accounts. If you're calling from your computer using a Skype account to a regular phone in Japan, nominal rates of about $0.02 per minute apply. See the Skype Web site for more details.
---
Index of Related Japan Travel Tips Links:
Cheap Flights to Japan / Airports in Japan / Japan Tourist Visa / Weather in Japan / Japanese Currency / Internet Access in Japan / Japan Cell Phone Rental / Japan Car Rental / Japan Rail Pass
---
Return to Japan Travel Tips
Return from Japan Long Distance to the Essential Japan Guide Home