Toshogu Shrine
Toshogu Shrine, located in Nikko, Japan, is home to the mausoleum of Tokugawa Ieyasu, Japan's first shogun. Toshogu, a UNESCO World Heritage site, features ornate, colorful, architecture and lavishly decorated wood carvings influenced by China, and as such is a unique and exciting Japan attraction well worth visiting.

Highlights of Toshogu Shrine
Large Stone Torii Gate (Ishidorii)
Ishidorii, the towering stone-made torii gate at the entrance of Toshogu, greets visitors as they walk up a lengthy path leading to the shrine. Ishidorii was dedicated in 1618 by Kuroda Nagamasa, a Daimyo of Japan in what is today Fukuoka Prefecture. The stone material used in building the shrine was shipped by boat from Kyushu, and then transported over mountains and through forest land by laborers to Nikko before being assembled.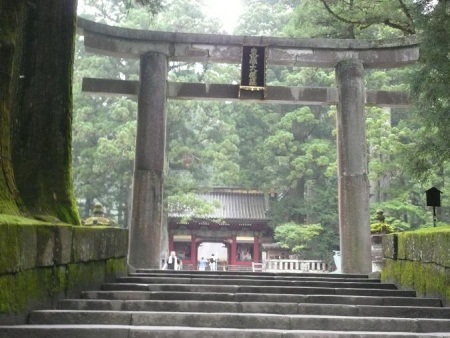 Five-Story Pagoda (Go-juu no Tou)
This colorful red Nikko structure was dedicated in 1648 by Japanese daimyo Sakai Tadakatsu who ruled over what is today Fukui Prefecture. The structure burned down in 1815, and was rebuild in 1818. The Nikko five-story pagoda stands 36 meters in height.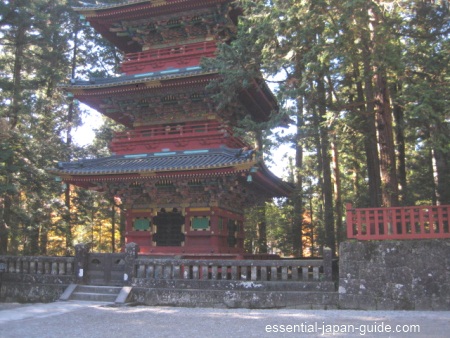 Yomeimon Gate
This incredibly ornate and detailed gate contains 508 sculptures depicting various human and animal scenes. Designated a Japan National Treasure, Yomeimon Gate is often regarded as the most impressive building within the Toshogu Shrine compound.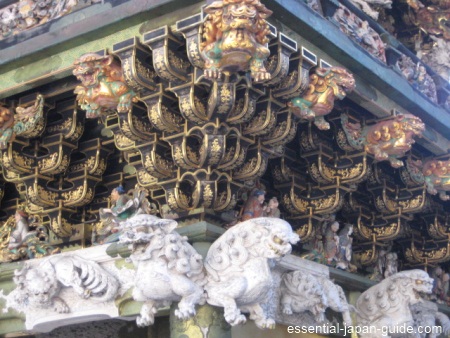 Sacred Stable (Shinkyusha)
The Sacred Stable houses a white imperial horse, and is most famous for the carving of the three wise monkeys (see below). In ancient Japan, it was believed that monkeys are the guardians of horses.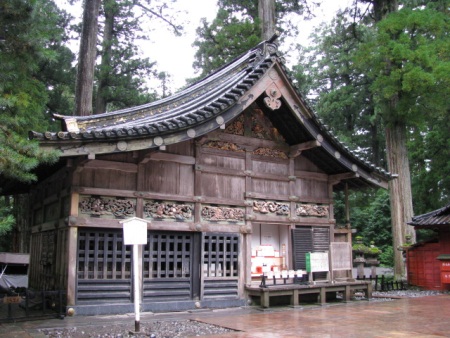 Three Wise Monkeys (Sanzaru)
The wood carving of the three wise monkeys who "see no evil, speak no evil, and hear no evil" is perhaps the most well-known feature of Toshogu Shrine. The three monkeys sit atop the entrance to the Sacred Stable and guard the white imperial horse.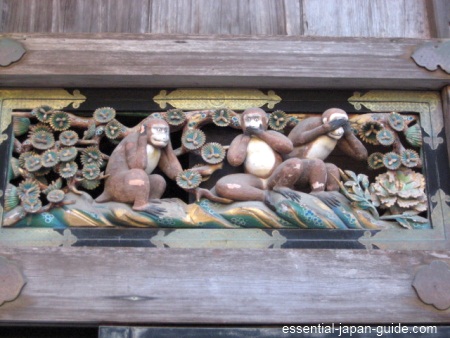 Sleeping Cat (Nemuri Neko)
Thought to have been created by master sculptor Jingorou Hidari, the Sleeping Cat naps atop the entrance to the Okusha Inner Shrine.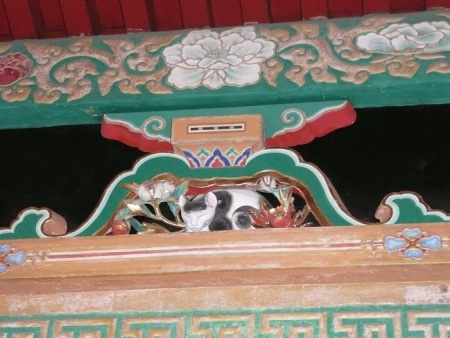 Crying Dragon (Nakiryu)
Nakiryu is a stunning painting of a dragon on the ceiling of Yakushi-do. Visitors gather in silence under the dragon as a resident priest strikes a clapper, resulting in a mysterious sound that suggests the cry of a dragon.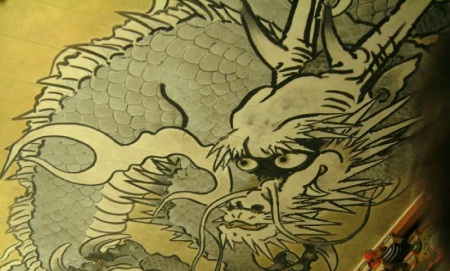 The above is just a small sampling of all there is to see at Toshogu.

Guided Tour of Nikko, including Toshogu Shrine


Nikko National Park Day Trip from Tokyo

Explore the scenic shrines and countryside of the Nikko National Park on a day trip from Tokyo. Nikko has been a center of Shinto and Buddhist mountain worship for centuries, and is famous for its shrines, mountain landscapes, lakes, waterfalls, hot springs, wild monkeys and hiking trails.
More Info!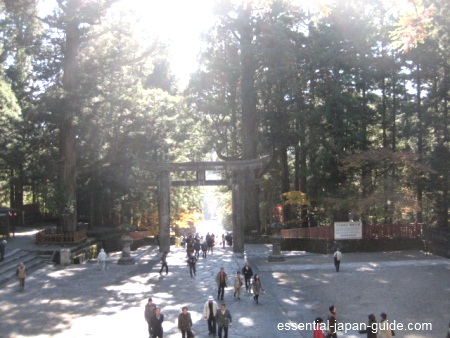 Toshogu Shrine Access
See our page on Nikko for access to Nikko from the Tokyo area. In order to get to Toshogu and the other famous Nikko shrines and temples, take the bus from Tobu Nikko Station. Bus fares are 300 yen each way, 500 yen for a day pass, or are covered by the various Nikko passes offered by Tobu (see Nikko page for details).
Toshogu Hours and Admission Fee
Hours
April 1 – Oct. 31: 8am to 5pm
Nov. 1 to March 31: 8am to 4pm
Entrance Fee
Toshogu Shrine Compound: 1,300 yen (children 450 yen)
However, a 1,000 yen combination ticket is also available, which includes entrance to Rinnoji, Futurasan Shrine, and Taiyuinbyo is also available (a separate fee of 520 yen required for entrance to Ieyasu's tomb and the Sleeping Cat carving). See our Nikko page for details.

Toshogu shrine is a remarkable monument to a remarkable figure in Japanese history located in a beautiful part of Japan, and is well worth the journey to Nikko to see and enjoy for yourself!