Sushi-Dai Review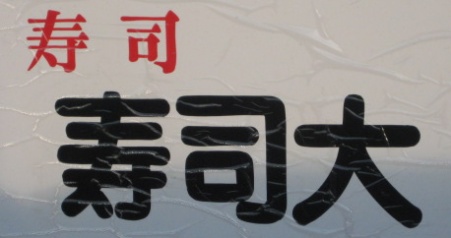 Sushi-Dai in Tsukiji Fish Market: A Review
Sushi-Dai Review….On our last trip to Tsukiji Fish Market in Tokyo, we looked around until we found a line filled with what seemed to be the
largest number of Japanese locals, which is always a good clue as to where to find the freshest sushi to be found.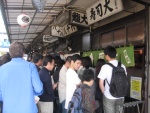 The restaurant they were waiting to get into, located right outside the market,
was a little sushi bar called Sushi-Dai. After a server from the shop came out and told us there
would be a 1 1/2 hour wait, we thought about bolting for a less-crowded shop, but since it was early and
hunger had not quite set in, we decided what the heck and joined the back of the line.
A couple of hours later, we were glad we did.
It was definitely worth the wait. By the time we sat down at the cozy 12-seat
bar, our stomachs were rumbling and we were ready to eat! We ordered what
everyone else seemed to be ordering: the Omakase Set, which in English means
the chef's choice.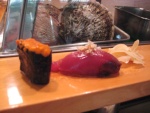 The Omakase Set, which costs a shade over 3,000 yen, includes 10 pieces of
nigiri sushi featuring the catch of the day chosen by the chef, one additional
piece of nigiri of our choice, a few pieces of rolled sushi, a bowl of delicious
miso soup with clams, and hot tea.
After we sat down, we wiped our hands of impurities using the provided oshibori steaming hot towel.
First came the hot tea and miso soup. Then the chef placed a heaping pile of pickled ginger directly on the
elevated wooden counter in front of our seat.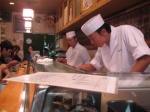 And last but not least, the sushi. One piece at a time. Placed right on the
wooden counter. The first piece, a generous deep-red slice of maguro, absolutely
melted in our mouths. The bed of vinegar rice, called shari, was perfectly formed so as to provide a light,
airy sensation to the bite.
The katsuo (bonito), hotate (sea scallops), anago (conger
eel), and other goodies that followed were equally delicious. And even the uni
(sea urchin) and ikura (roe) that we usually avoid ordering elsewhere were
stunningly tasty.
An hour or so later yet still a few minutes shy of 9:00 am, having reached sushi
nirvana, we made our way happily back toward the station to begin a full day of
Tokyo sightseeing.
Needless to say, if you can deal with the lengthy wait, Sushi-Dai in Tsukiji Fish Market
promises sinfully fresh, artfully prepared sushi at reasonable prices, which earns this sushi joint
an EJG thumbs up!

How to Get to Sushi-Dai
Tsukiji Shijo Subway Station on the Oedo Line Exit A1;
a 10-min. walk from Tsukiji Subway Station on the Hibiya Line Exit 1;
a 10-min. walk from Higashi Ginza Subway Station. Located in the Tsukiji Fish Market just outside the main building
(look for the sign in the image at the top of this page).


Sushi-Dai Hours of Operation
Mon-Sat 5am-2pm
Prices
A la carte nigiri sushi: approx. 200 – 1,000 yen; Sushi sets: approx. 2,100 – 3,500 yen